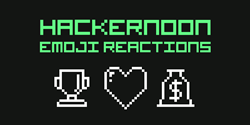 "Hacker Noon raises the voices & ideas of all kinds of builders working to keep it real on the internet," - Mozilla's Bijan Marashi. "It's amazing to be a part of their work around engagement, monetization, & research in making community driven platforms a viable and sustainable model for everyone."
EDWARDS, Colo. (PRWEB) September 01, 2020
Hacker Noon released inline emoji reactions for all stories on its technology publishing platform. This work was done in collaboration with Mozilla's Fix the Internet incubator.
"We are always exploring ways to help facilitate the exchange of value from writers to readers and readers to writers," wrote CEO David Smooke on Hacker Noon. "With just a click, the reader can convey a library of emotions to the writer. These reactions will also help drive curation and distribution on Hacker Noon and the Internet."
"Wikipedia, Wordpress, DuckDuckGo, Kickstarter, GitHub, Node.js, and Ethereum are some of our favorite examples of the internet at its best," reads the Mozilla Fix the Internet mission statement. "We've done it before. We're going to build 1000 more."
The program started in July, and today Hacker Noon shipped the first version of the functionality across all stories on HackerNoon.com.
"Readers now have a low-friction tool to give writers specific feedback on their words," wrote CPO Dane Lyons on Hacker Noon. "This creates a feedback loop that writers can learn from and improve their content over time."
"Hacker Noon raises the voices and ideas of all kinds of builders working to keep it real on the internet," says Bijan Marashi, one of Mozilla Builder's founders and leads. "It's amazing to be a part of their work around engagement, monetization, and research in making community driven platforms a viable and sustainable model for everyone."
The pixelated emojis were commissioned by Hacker Noon, designed by Aleksandar Savic - with contributions from the Hacker Noon team - and have been open sourced here: pixelated social media icons, pixelated site icons, and pixelated emoji reactions.
About Mozilla
Mozilla has been a pioneer and advocate for the Web for more than a decade. We create and promote open standards that enable innovation and advance the Web as a platform for all. Today, hundreds of millions of people worldwide use Mozilla Firefox to discover, experience and connect to the Web on computers, tablets and mobile phones. For more information please visit https://www.mozilla.com/press
About Hacker Noon
How hackers start their afternoons. Hacker Noon is built for technologists to read, write, and publish. We are an open and international community of 12,000+ contributing writers publishing stories and expertise for 4,000,000+ curious and insightful monthly readers. Founded in 2016, Hacker Noon is an independent technology publishing platform run by David Smooke and Linh Dao Smooke. Get your technology story published today.