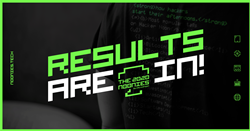 "We 10x-ed the traffic from Noonies 2019 to Noonies 2020," said Hacker Noon CEO David Smooke. "It's a testament to the curation of our editorial team, the experience, functionality, and deployment by our product team, and the community's desire to vote for who deserves rewards."
EDWARDS, Colo. (PRWEB) October 20, 2020
Hacker Noon, the technology publishing platform, announced the Noonies 2020 winners. Full results are available at Noonies.Tech. The Noonies are the technology industry's greenest awards built with Hacker Noon's custom voting software.
In total, 232,444 votes were cast across the 221 technology awards.
"We 10x-ed the traffic from Noonies 2019 to Noonies 2020," said Hacker Noon CEO David Smooke. "It's a testament to the curation of our editorial team, the experience, functionality, and deployment by our product team, and the community's desire to vote for who deserves rewards."
All the Noonies winners received 5 years of free dot tech domain courtesy or Radix, and additional award specific cash and prizes from companies such as Sustany Capital, Grant for the Web, Skillsoft, Beyond Skills, Udacity, and Flipside Crypto. All second and third runners up also received free dot tech domain registrations.
According to a Hacker Noon blog post by Managing Editor Natasha Nel, there are over 200+ Noonie Nominee Interviews, AMAs, and Podcasts now live on Hacker Noon.
The Hacker Noon team conceptualized The Noonies in early 2019 to celebrate the underappreciated corners of the internet. The voting software that powers the site is built with React, Apollo, Next.js, Vercel, GraphQL, Prisma, Font Awesome, and it integrates with the content management system that powers https://hackernoon.com. There's Google login, a ton of voting security issues, weighted voting, a new tagging system coupled with recommending related awards, individual award sponsors, and a robust admin dashboard.
"While I'm very much looking forward to Noonies 2021, I'm equally excited to iterate on the voting experience in more instances," said David Smooke.
To work with Hacker Noon on a voting site or application, email partners@hackernoon.com or visit or new contact form.
About Hacker Noon
How hackers start their afternoons. Hacker Noon is built for technologists to read, write, and publish. We are an open and international community of 15k+ contributing writers publishing stories and expertise for 3M+ curious and insightful monthly readers. Founded in 2016, Hacker Noon is an independent technology publishing platform run by David Smooke and Linh Dao Smooke. Get your technology story published today.