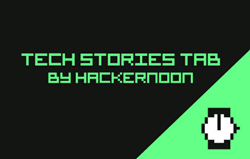 Tech Stories Tab saves you from typing the 14 characters of "hackernoon.com" every time you open a new tab.
EDWARDS, Colo. (PRWEB) June 24, 2020
Hacker Noon, the technology publishing platform serving 4M readers per month, released the Tech Stories Tab in the Google Chrome Web Store. This browser plugin will display what human editors at Hacker Noon have curated as the most important technology stories of the day.
"Chrome is currently the most used browser of our readership, so we are excited to work more with the browser to curate great technology stories," said Hacker Noon CEO David Smooke. "The beta has been fun, I've enjoyed seeing what tech stories Hacker Noon editors curate in my new tab."
"Tech Stories Tab saves you from typing the 14 characters of "hackernoon.com" every time you open a new tab," said Hacker Noon CPO Dane Lyons, a bit tongue in cheek. "I expect V2 to include more technology sources, a search filter, and possibly the ability to personalize your new tab by following tags."
What kind of stories should people expect in their Tech Stories Tab? Here are some top stories from Q2 2020:

Hacker Noon's new tab Chrome Extension makes it easy for you to stay in-the-loop with what's ~really~ going on in tech today—as told by the hackers building, buying, hodling, founding, and funding our collective futures.
"The best hacker and developer publication on the planet!"— tweeted Sherman Lee, Co-founder @Raven_Protocol, Angel Investor @deep_ventures_
"The best thing I've read in awhile." — tweeted @darklordcodes, FullStack Software Developer @shortpoint_tw.
"Big shout out to the @hackernoon guys & girls, great bunch of people and the best place on the internet to publish your #crypto content " — tweeted builder of things @BinaryOverdose
Hacker Noon has covered 18k+ tech topics, published 12k+ contributing writers, and serves 4 million monthly readers. Give yourself the gift of good tech storytelling: be the first to know everytime a new featured post is published on the world's greenest indie tech site.
About Hacker Noon
How hackers start their afternoons. Hacker Noon is built for technologists to read, write, and publish. We are an open and international community of 12,000+ contributing writers publishing stories and expertise for 4,000,000+ curious and insightful monthly readers. Founded in 2016, Hacker Noon is an independent technology publishing platform run by David Smooke and Linh Smooke.
About Google Chrome Web Store
You can find apps, extensions, and browser themes for the Google Chrome browser in the Chrome Web Store. With these additions, you can do more with Chrome.Here are some benefits of using apps: apps install quickly, without restarting your computer or browser, your apps are always available when you sync apps across multiple computers, apps are always up-to-date because they are hosted on the web, apps won't crash your computer. If you have trouble with an app, close its tab, and you can easily find and open the app using app launcher.