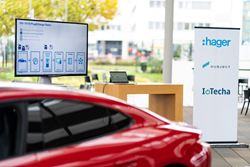 PISCATAWAY, N.J. AND BLIESKASTEL, GERMANY (PRWEB) January 08, 2020
IoTecha Corp. (IoTecha), a provider of advanced Smart Charging solutions for Electric Vehicle (EV) charging, and Hager Group, a leading provider of solutions and services for electrical installations in residential, commercial and industrial buildings, are proud to announce our successful milestone development marking the completion of the End-to-End platform for Smart EV Charging, enabled by Combined Charging System (CCS) with ISO/IEC 15118 Plug and Charge (PnC).
This milestone was also enabled by the new round of IoTecha funding led by Hager Group. The funds will be used to meet growing customer demand for IoTecha's IoT.ON™ platform for smart EV Charging, Cloud-based Charger Monitoring and Vehicle-Grid Integration (VGI) services. Proceeds will also be used to support the launch of several AC Charger models based on IoTecha's platform in Europe and North America in early 2020 and further development of IoTecha's IoT.ON™ Cloud Services. Out of the box integration with IoT.ON™ Cloud Services will enable EV Charger monitoring, enhanced charger availability, and robust ISO/IEC 15118 interoperability. As a result, our partners and customers will be able to offer an improved user experience, while reducing the overall cost of charger ownership and EV charging costs.
Mr. Oleg Logvinov, CEO of IoTecha, stated, "The success of any technology or service is highly dependent on the strength of the ecosystem that supports it. We are very proud of our partnership with Hager Group, which brings together complimentary expertise and capabilities. The history of IoTecha's team began with the development of powerline communication technology and implementation of the ST2100 SoC, while at STMicroelectronics. We now have an opportunity to enable the implementation of complete systems because of innovative partners like Hager Group."
Mr. Jean Lasserre, VP Corporate Strategy at Hager Group added, "Together with IoTecha, Hager Group has been able to offer our customers a complete new Charging Station offering in record time. We have seen the market demand for advanced charging solutions explode in recent months, with customers now putting more and more emphasis on a complete, robust, secured yet extremely simple to use solution for charging. Together with IoTecha, Hager Group wants to be a partner of choice for companies willing to implement highly performing and easy-to-use charging solutions on a large scale and for various business segments, such as Commercial and Residential Properties, Parking Garages, Corporate Fleets, Retail Parking Lots, and Private Homes."
Hager Group and IoTecha recently joined with Hubject, the eRoaming platform for customer-friendly charging of electric vehicles, and held a successful end-to-end solution demonstration at the Hager Forum in Obernai, France. Attendees of the event had an opportunity to see Plug and Charge in action where a brand new Porsche Taycan was seamlessly charging using PnC from a Hager AC Charging station built on IoTecha's platform. The Hager AC Charger was connected to the Hubject PKI Ecosystem through the IoTecha IoT.ON™ Cloud. This comprehensive implementation enabled a simple and user-friendly experience as presented in this video -- https://www.iotecha.com/blog/post/123
IoTecha products bring important advantages to charging station manufacturers, operators, and owners, including the support of key standards, such as CCS with ISO/IEC 15118 and Open Charge Point Protocol (OCPP). IoTecha's Combined Charging System on Module (CCSoM) is a software and hardware platform that shortens time to market for both EVSE and EV manufacturers and enables the development of a wide range of EV Chargers (EVSE) for private and public use. IoTecha's IoT.ON™ integrated Cloud platform enables charger manufacturers and charging station operators to significantly reduce operational costs and charger downtime by providing tools to continually monitor charger status and performance.
For further information, please contact:
Brenda LiBrizzi
brenda@iotecha.com
+1 (908) 300-5178
About IoTecha Corp.
IoTecha is accelerating the Electric Vehicle revolution by providing an integrated Platform called IoT.ON™ – consisting of software, hardware and Cloud components - for the Smart Charging infrastructure and enabling the integration of tens of millions of Electric Vehicles with the Power Grid. Our customers are prominent global manufacturers of both Electric Vehicles and EV charging stations. Our products include V2G and HomePlug Protocol Analyzer, Combined Charging System on Module (and custom modules) for EVSE and EV applications, and our Cloud-based services. http://www.iotecha.com
About Hager Group
Hager Group is a leading provider of solutions and services for electrical installations in residential, commercial and industrial buildings. Its range of solutions and services extends from energy distribution to cable management and from security systems to building automation.
As an independent family-owned and family-run company based in Blieskastel, Germany, Hager Group is one of the industry's innovation leaders. 11,500 employees generate sales of around 2 billion Euros. Components and solutions are produced at 22 locations around the globe and customers in more than 120 countries all over the world trust in them.
Contact:
Cécile Mora
Manager Corporate Public Relations
T +33 6 37 48 45 49
cecile.mora@hagergroup.com
hagergroup.com