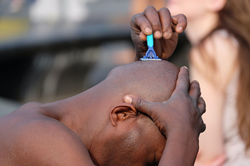 Procerin continues to be our most recommended product to stop the process of Hair Loss in men,
OVERLAND PARK, Kan. (PRWEB) October 05, 2020
TopConsumerReviews.com once again awarded their highest five-star rating to Procerin, an industry-leading product for men dealing with unwanted Hair Loss.
With more than 50% of both men and women experiencing some variety of Hair Loss during their lifetimes, it's no surprise that products designed to prevent loss and promote hair (re)growth are extremely popular. Hair Loss often comes with a loss of self-esteem and feelings of embarrassment and self-consciousness. That's not just vanity: studies have shown that people with a full head of hair get more favorable reactions in both professional and personal settings. In the pursuit of products that can address Hair Loss, it's important for consumers to look for products that have a track record of success, demonstrated by ample customer reviews and backed by a strong satisfaction guarantee - because what works for one person may not produce results for someone else. Fortunately, there are several Hair Loss products available today that have been proven to work well for most users; best of all, these effective options are able to be purchased online, for maximum privacy and convenience.
"Procerin continues to be our most recommended product to stop the process of Hair Loss in men," affirmed Brian Dolezal of TopConsumerReviews.com, LLC. "The product consists of an oral supplement used in conjunction with a topical foam, promoting hair regrowth where it has already thinned or fallen out while offering protection for the hair that's still in place. The supplement and topical foam both use all-natural ingredients like Eleuthero Root and Peppermint Oil, so concerns for side effects resulting from harsh chemicals are minimized. We encourage men who are considering Procerin for Hair Loss to read through the product's Clinical Study page, to see for themselves the proven effectiveness of the two-step process. Best of all, the makers of Procerin offer a 90-day refund policy, just in case a customer doesn't get the results he was hoping for - though many users report seeing significant improvements in their hair in just 14 days. For all of these reasons, Procerin has once again earned our highest rating among products that fight Hair Loss in 2020."
To find out more about Procerin and other Hair Loss products, including reviews and comparison rankings, please visit the Hair Loss category of TopConsumerReviews.com at https://www.topconsumerreviews.com/hair-loss/.
About Procerin
Procerin is produced by Speedwinds Nutrition Inc. out of Portland, Oregon. Every product produced by Speedwinds Nutrition is manufactured in a GMP-certified laboratory. Their lab procedures and testing guidelines meet or exceed all necessary qualifications required of pharmaceutical labs, so customers can be assured of the safety and rigorous testing of all products. As an accredited business with the Better Business Bureau, Speedwinds Nutrition maintains an A+ rating and is committed to customer satisfaction.
About TopConsumerReviews.com
TopConsumerReviews.com, LLC is a leading provider of reviews and rankings for thousands of consumer products and services. From Hair Loss to Stress Relief and Hair Care Products, TopConsumerReviews.com delivers in-depth product evaluations in order to make purchasing decisions easier.