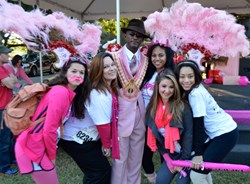 New Orleans, Louisiana (PRWEB) November 25, 2013
All the pledges and the promises came true as Hairfinity® met its ambitious Breast Cancer Awareness Month goals with glowing results! Check: Early Detection! Education! Donations! Hairfinity is the popular hair vitamin brand from Brock Beauty, Inc.
The company's successful celebrity-driven 'Hairfinity 50k Strong Breast Cancer Awareness Pledge Campaign' was aimed at inspiring 50,000 women to 'take the pledge and get screened' for early detection. Celebrity/survivors Vanessa Bell Calloway (Showtime's 'Shameless') and Ebony Steele ('The Rickey Smiley Show' co-host/Fox TV's 'Dish Nation') led the charge for the national social media campaign, doing 'personal experience' videos and utilizing media to educate and urge women to 'take the pledge' on Hairfinity's Facebook page. Over 10,000 people stopped by Hairfinity's Facebook page, where facts and information was posted about breast cancer and the importance of earyl dectection, while other took the pledge and encouraged family and friends to do the same.
Throughout October, the '50K Strong' Campaign reflected Hairfinity's hands-on approach and brand theme: 'Beauty from the Inside Out'. The company's clear dedication to the cause was demonstrated not only by external actions but through internal efforts, as well. A percentage of Hairfinity product purchases on Oct. 22, 2013 was donated to the non profit foundation "Sisters Breast Cancer Survivors Network". SBCSN provides much-needed services such as rides to medical appointments, wigs, and prosthesis to underserved communities. SBCSN also provides a place where fellow survivors can network and share experiences with one another.
The Louisiana-based company's own employees also 'walked the walk' on October 26 for the Susan G. Komen Race for a Cure®. Their efforts included everything from fundraising in their hometowns to running, walking and strolling in New Orleans' Susan G. Komen Race for the Cure. This event is the largest series of 5K runs/fitness walks in the world and raises significant funds and awareness for the fight against breast cancer, celebrates breast cancer survivorship and honors those who have lost their battle with the disease.
Says Tymeka Lawrence, President of Brock Beauty, Inc: "We are very honored and fortunate that our company was able to support Breast Cancer Awareness Month in the ways that we did. We remain committed to this cause and to helping women lead healthy lifestyles. The most effective message we can promote is that early detection can save lives – and then provide information and resources that help people to know where to go to get these low-to-no cost screenings."
About Hairfinity
Hairfinity from Brock Beauty, Inc. is a nutritional supplement that contains essential nutrients for healthy hair. Formulated using the most effective nutrients and proteins, Hairfinity Hair Vitamins nurture and nourish from the inside out for longer, shinier hair. Hairfinity Vitamins feature the unique Capilsana™ complex, a proprietary formula that offers visible results in as little as 30 days.
About Brock Beauty, Inc.
Brock Beauty, headquartered in Slidell, LA, is an innovative natural hair care and skin care company, committed to delivering lasting results and affordable, healthy solutions to enhancing and preserving your natural beauty. The company's HAIRFINITY brand is the haircare category leader in the growing 'natural hair nutrition' market niche at the consumer/salon client level.