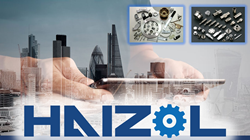 "We bring the future of manufacturing to our buyers. With a few clicks, they can receive verified and accurate quotes from top suppliers in Asia. It is incredibly fast, and the experience is seamless. This is the result of months of research and development from our engineers" - Jack, Head Engineer
SHANGHAI (PRWEB) October 09, 2019
Companies looking to move their manufacturing overseas can improve efficiency and lower production costs. Previously, getting a quote for the manufacturing of machining parts could be lengthy and complicated. For a buyer who would like to outsource their manufacturing overseas, they typically needed to spend days if not weeks searching for potential suppliers. Then, getting a quote from these suppliers could take weeks longer.
Haizol's online platform specializes in machining manufacturing in Asia. They offer their customers a one-stop sourcing solution with a built-in instant quoting system. On their website, a buyer can simply upload a 3D CAD file onto their secure server to get an instant quote for their machining parts.
Haizol developed an intelligent system whereby 3D drawings can be uploaded and priced independently based on 20,000 previous drawings and a large amount of in-depth analysis of parts processing by engineers. Once the images are uploaded, the system will calculate the purchasing cost based on the raw materials, processing precision, manufacturing method, and purchasing quantity, all within 1 minute. They remove the factory quotation wait time, and allow a purchasing price to be retrieved instantly.
Now, with a few clicks, buyers can have an accurate manufacturing price from a well-established company. They get a fair quote and can have production started within hours. This time-efficient system makes outsourcing the easiest it has ever been and saves valuable time and money for the customer.
On-demand manufacturing is the future, and Haizol is at the forefront of this development. With a dedicated consulting service providing guidance and support, small and medium-sized enterprises can benefit.