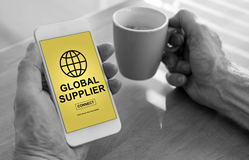 SHANGHAI (PRWEB) March 04, 2020
From rapid tools, prototypes, and large quantity production of specialist precision parts and components, the continued production of these items is key to many business' operations. Engineers usually have a wide array of companies to choose from when it comes to having their machine parts manufactured.
An agile business strategy which enables sourcing verified suppliers, and maintaining efficiency of your production line is key. With the ease of travelling to Asia currently removed, and many factories presently closed or operating at low capacity, this strategy is not easily executed for many companies worldwide.
Alleviating the need to travel, whilst maintaining control over your supply chain is now possible through digital manufacturing. For engineers and product developers, there is no better time than using a well-established manufacturing platform.
Haizol leverage their well-established extensive database of partners, allowing them to find a match for your project in hours. The time consuming, slow, and expensive process of typical manufacturing is eliminated and replaced with a streamlined, precise, and inexpensive solution. Intelligent systems are inbuilt whereby 3D drawings can be uploaded and priced independently based on thousands of previous drawings. An automated system can calculate the purchasing cost based on the raw materials, processing precision, manufacturing method, and purchasing quantity, all within minutes. This removes factory quotation wait time, and allows a purchasing price to be retrieved instantly.
Automation lowers the cost of traditional manufacturing jobs. The process is simple and effective, with little human involvement unless confirmation of a design specification is required. What's more, lead time is often guaranteed through maintaining more supply than demand, and being able to be match companies with factories that have the right equipment to fulfil the order with ease.
Now, with a few clicks, companies can have an accurate manufacturing price from a well-established company. They get a fair quote and can have production started within hours. This time-efficient system makes outsourcing the easiest it has ever been and saves valuable time and money for businesses. On-demand manufacturing is the future, and now is the perfect time to test it out.
Hop over to Haizol.com to start your digital journey today