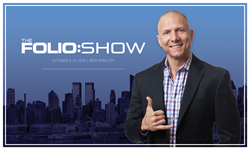 "Employees can't be just cubicle dwellers who clock in and out. They need to be engaged people—talented, of course—but also fundamentally curious." - Haj Carr, CEO, Trueline
PORTLAND, Maine (PRWEB) August 27, 2018
Got talent? You'll need it to be successful in today's publishing world, but finding it—and knowing it when you see it—can be a challenge.
Anyone interested in the topic of effective hiring can attend a roundtable discussion this fall. Led by Haj Carr and two other publishing executives, "Building A Publishing Dream Team," is among many events being held at The Folio: Show, a two-day media event and awards ceremony at the Hilton Midtown in New York City.
The roundtable discussion will be on the first full day of the event, October 9, from 11:15 a.m. to 12 p.m.
Carr is the CEO of Trueline, and is known for his employee-centric approach. "Employees can't be just cubicle dwellers who clock in and out," says Carr. "They need to be engaged people—talented, of course—but also fundamentally curious."
"Conventional writing and design backgrounds are no longer adequate," he says.
His company provides content, strategy and design to businesses and individuals, and also owns and operates B2B digital publications—including Vanguard, a digital magazine that profiles legal executives. Vanguard has been nominated for several awards in this year's Eddie & Ozzie Awards, hosted by The Folio: Show, and is a finalist in the B2B Full Issue category.
Also scheduled to participate in the discussion is Gabrielle Korn, editor-in-chief of Nylon, a pop culture and fashion media company; and Constance Sayers, president of Government Executive Media Group, a publication that profiles government executives.
For more information on Trueline or to schedule a meeting with Haj Carr at the Folio: Show, contact Erica Berry at 207-517-8386.
About Trueline
Trueline is an independent, full-service marketing and consulting business based in Portland, Maine, that provides strategy, content and design for businesses, nonprofits and individuals in Maine and throughout the world.