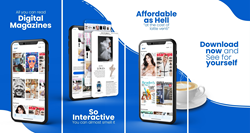 "We are striving to provide the best digital magazine experiences in the world while disrupting the technologies to create them." Ebe Erdenebayar, Founder, WorldPlus
ULAANBAATAR, Mongolia (PRWEB) December 03, 2020
WorldPlus Digital LLC today announced a new version of WorldPlus, a subscription-based "all you can read" digital magazines platform for iOS and Android. WorldPlus offers a new way for people to enjoy fully interactive library of world renowned magazines such as New York Magazine, Inc Magazine, The Fast Company, Harper's Bazaar, Men's Journal, Reader's Digest, PCWorld, Maxim and The Guardian Weekly.
Fueled by the truly immersive reading experience and remarkably affordable entry price tag, the platform aims to bring together over 500 popular magazines, leading newspapers, digital publishers and advertisers in Asia-Pacific, Europe, Africa, and the Americas within 2021.
In addition, the company is providing its proprietary technology to publishers who're willing to launch their own interactive digital newsstand. Singapore Press Holdings and Weibo are amongst the notable partnerships.
"We are striving to provide the best digital magazine experiences in the world while disrupting the technologies to create them. Also, by reducing the paper consumption in the media industry, WorldPlus is contributing to the sustainability of the planet, one issue at a time" says Ebe Erdenebayar, Founder and President of WorldPlus Digital LLC.
WorldPlus is now available globally on App Store and Google Play for $5.99 a month. Customers can sign up for a free one-month trial, and access current and past issues from the aforementioned magazines and 50+ others. The plan automatically renews after the trial ends and can be canceled anytime.
About — WorldPlus Digital LLC is a technology, media services and publishing platform provider company. It was founded in 2019 with a goal to disrupt how digital magazines are created as well as to provide people with interactive content experience through innovative technologies. The company is backed by Hakusho Sho, Yokozuna and one of the greatest Japanese sumo wrestling champions of all time.
For more information, visit: http://www.wplus.world
iOS Link: https://apps.apple.com/us/app/world-plus/id1420368456
Android Link: https://play.google.com/store/apps/details?id=com.wplus&hl=en&gl=US