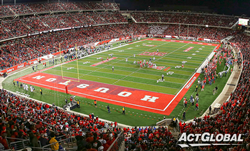 "We pride ourselves in providing safe, sustainable environments for athletes; it's easy to do that when you have a manufacturer that stands behind the same ideals."
DALLAS (PRWEB) September 06, 2019
Haldeman Homme, Inc. (HHI) and Act Global are excited to announce a partnership to add high-end artificial turf to HHI's total facility solutions. This partnership stems from both companies' commitment to bringing high-quality and world-class experiences to our customers. Haldeman Homme is a full-service supplier of quality goods and services utilized in education, healthcare, government, and athletic facilities. HHI recently founded "Athletic Construction Solutions," a division dedicated to outdoor athletic solutions. ACS covers everything from track and field solutions to netting and football goal posts; missing was a leading partner in artificial turf.
Act Global's mission to "Be More" is ingrained in every facet of the business. With a foundation of innovation, integrity, and quality, Act Global strives to positively impact society and maximize land use through the use of synthetic turf. "Haldeman Homme's dedication to making a positive impact on the communities they serve is just one of the reasons why they make a great partner," says CEO John Baize. "We both value providing athletic solutions that enhance the athlete's experience and player safety, so Act Global is excited for this new partnership and how we can keep providing communities with the same quality surfaces."
"With Act Global on board we can truly say we offer the full package when it comes to outdoor athletic solutions," says ACS Territory Manager Justin Perez. "We've always been able to provide the best in class products when it comes to your track, court, and equipment. It's exciting to now be able to provide the artificial turf to go inside your track, your football field, or even the landscaping around the facility."
Haldeman Homme Division Manager, Dan Moran says, "Act Global's commitment to green-friendly technologies and promoting sustainable practices is just another part of what makes them a great partner. We pride ourselves in providing safe, sustainable environments for athletes; it's easy to do that when you have a manufacturer that stands behind the same ideals."
About Haldeman Homme: On top of state-of-the-art products and equipment, Haldeman Homme and ACS also provide design services, installation, and ongoing maintenance for all athletic facilities. That doesn't stop with solutions only for athletes; make sure your fans are comfortable with a wide range of outdoor bleachers and seating. If it fits inside your facility, HHI and ACS can provide it. This means fewer contracts and deals with vendors and greater peace of mind for you. Learn more about Haldeman Homme and the Athletic Construction Solutions Division at https://haldemanhomme.com/athletic-construction-solutions.
About Act Global: Act Global is a world leader in synthetic turf technology with an ISO 9001 Quality Certified manufacturing facility in Calhoun, Georgia, and field installations in over 90 countries. Act Global is a FIFA Quality Licensee and preferred supplier for World Rugby, the International Hockey Federation, and the United Soccer League. The Act Global UBU Speed Series is the leading brand for NFL & NCAA Division I Football Fields have been featured in the New Orleans Superdome 2013, 2017, and 2018, New York Met Life Stadium 2014, and Minneapolis U.S. Bank Stadium 2016 and 2019.