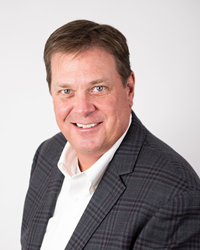 "I am thrilled to be a team member of this great ESOP and look to continue HHI's position as the leader in our science and technology market."
MINNEAPOLIS (PRWEB) March 20, 2019
Haldeman Homme is excited to welcome Drew Lynch to our team as the new General Manager of East Coast Science and Technology Operations. Drew was brought on board to HHI to support our growing eastern US client base. Drew has also been charged with the further development and ongoing operations for Haldeman Homme's growing East Coast Division, focused on laboratory environments.
Drew comes to Haldeman Homme with more than 25 years of experience in laboratory solutions; having managed and built organizations for specialty contractors focused in the laboratory and architectural products industries. Drew started his career working with Fisher Hamilton, eventually rising to VP of North American Sales for Hamilton, where he managed the internal and external sales force and distribution partners. For the last three years, he served as VP of Business Development of MMC, a national mechanical contractor focused in the New Jersey Region.
"I am excited to get back into the life science construction industry. Having known the HHI leadership team since the early 90's and working with a large portion of the team while running sales at Hamilton created an opportunity that really fit my experience and career goals," Drew says, "I am thrilled to be a team member of this great ESOP and look to continue HHI's position as the leader in our science and technology market."
"Having known Drew for over 20 years, Drew's ability to build a great client service team is the one thing that stood out to me. Drew is an outstanding addition to our team; we are delighted to have him with us as we continue to build our national laboratory services footprint," says Ron Johnson, President of Haldeman Homme. "Drew brings HHI depth of leadership in our growing east coast region as well as to HHI's entire business. Drew fits with our vision of an exceptional client experience delivered by a highly effective team of employee owners."
Since 1924, Haldeman Homme, Inc. has partnered with architects, designers, builders and owners nationwide, providing enterprise improving solutions that assist in meeting their specific objectives and vision. Haldeman Homme's services include pre-construction planning, design, space modeling, programming, installation, and maintenance and will be bringing all of those to the Eastern Division. Some of our specialty products include; laboratory casework, air flow products, flooring, scientific equipment, cleanrooms, environmental rooms, automated storage products, ergonomic seating, and adaptable furniture. For a full list of products, services, and partners visit our website https://haldemanhomme.com.