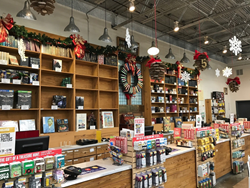 We are seeing strong sales across all of our stores, as well as year-over-year growth of HPB.com, and we are on track to open five stores in key markets in 2019.
DALLAS (PRWEB) November 13, 2018
In an industry projected to be wiped out by the e-book market, the nation's largest family-owned new and used book retailer, Half Price Books, is gearing up for a busy holiday season. The company's slow and steady growth has helped ensure its long-term viability at a time when other large brick-and-mortar stores are struggling. This continued growth has enabled Half Price Books to prepare for the holidays by increasing both staff and inventory throughout its 125 retail locations across the country.
The Half Price Books executive team has historically charted a course of conservative growth, intelligent strategy and collaborative planning, which has contributed to the 46-year-old business' viability. The store's sustainable business model and conservative nature has enabled growth not just with traditional book sales, but in other non-book and merchandise categories as well. In this constantly evolving market, Half Price Books has been successful at staying on top of industry onsets, particularly surviving in the age of Amazon.
"According to the Wall Street Journal, print book sales rose by five percent in the United States last year, while e-books plunged by 17 percent. We are seeing strong sales across all of our stores, as well as year-over-year growth of HPB.com, and we are on track to open five stores in key markets in 2019," said Kathy Doyle Thomas, executive vice president and chief strategy officer for Half Price Books.
In addition to offering its usual array of used books, new books, private-label merchandise and wholesale items, Half Price Books is upping its game this year by expanding its product offerings. This expansion of inventory will include more toys, accessories, board and card games, transportation themed toys, wearables, retro items, STEM sets, coffee mugs and other retail items, just in time for holiday gifting.
As well as increasing non-book inventory, Half Price Books is hiring more employees to prepare its stores to meet increased demands during the holidays. These new hires will help manage the increase in merchandising and making the sure the store stays stocked, assisting with e-commerce sales, in-store sales and shipping.
This family-owned company takes pride in investing in its employees, with more than 91 promotions during the last quarter and 274 in the past year. The Half Price Books customer care team has stayed ahead of the game by sending out holiday training refreshers months ago to its current employees. This has helped boost morale and prepare them for the busy yet sometimes overwhelming season ahead. The holiday training provides scheduling tips to make sure all shifts are completely covered, keeps up morale by expressing employee appreciation, urges employees to take care of themselves by taking breaks when necessary and makes sure the store stays stocked and looking its best.
"Half Price Books is very unique in the fact that we prepare for the holiday season not only by focusing on our sales and inventory, but providing our employees with the necessary resources and support to stay passionate. When customers notice our employees are excited to be there, it gets them excited," Thomas added. "Our stores have more one-of-a-kind items, versus other big-box retailers that have the same merchandise across the chain. When customers walk into our store, we want the experience to be personal."
ABOUT HALF PRICE BOOKS
Half Price Books is the largest family-owned new and used bookstore chain with 125 retail locations in 17 states. Stores are open seven days a week and buy and sell new and used books, magazines, comics, records, CDs, DVDs and collectible items. Half Price Books has been dedicated to environmental and literacy efforts for more than 46 years and supports hundreds of local, national and international programs. Each year the company sponsors the Half Pint Library Book Drive at each of its stores, donating and distributing thousands of books to non-profit organizations and schools throughout the United States. Half Price Books is a founding contributor to Laura Bush's National Book Festival, and a continuing supporter of the National Center for Family Literacy and Feed the Children. For more information about Half Price Books, its store locations and corporate initiatives, please visit http://www.hpb.com, and follow us on Facebook, Twitter and Instagram.