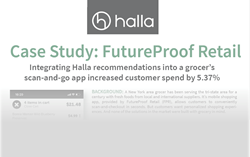 Working with FutureProof Retail's mobile checkout platform allows us to offer shoppers the best part of our online recommendations capabilities in physical stores," says Henry Michaelson, President, CTO and Co-founder of Halla
LOS ANGELES (PRWEB) October 05, 2020
Halla, a taste intelligence company that enables grocers to predict the personal preferences of their shoppers in real-time and its partner FutureProof Retail (FPR), the leading provider of scan-and-go mobile checkout solutions, announced today a 5% spend boost resulted from shoppers using the companies' integrated technology in a well-known New York City grocery chain.
Together, Halla and FPR are offering the first ever mobile grocery checkout experience with real-time, in-store, personalized recommendations. In a randomized study of more than 17,000 shopping trips over a period of three months (May-July 2020), buyers using the Halla-enabled FPR scan-and-go app purchased 5.37% more than the control group. Use of the technology also correlated with increased order frequency and profitability.
"Working with FutureProof Retail's mobile checkout platform allows us to offer shoppers the best part of our online recommendations capabilities in physical stores," says Henry Michaelson, President, CTO and Co-Founder of Halla. "As shoppers scan items, they enjoy inspiration, food discovery, and coupon notifications all uniquely tailored to their personal preferences."
"Even during a pandemic, over 85% of shoppers are still shopping inside grocery stores," adds FutureProof Retail President Di Di Chan, "With more than a 30% mobile checkout adoption rate already, our no-touch, scan-and-go mobile checkout platform is a leading solution that's helping retailers offer a convenient and hygienic solution to indoor shopping for both shoppers and staff. We are delighted to team up with Halla to bring recommendations and other benefits of online-personalization into physical stores."
It takes best-in-class technology solutions to deliver a truly frictionless experience for both retailers and shoppers. FPR and Halla are examples of affordable, in-store technology that help retailers transition their in-store shopping journey into a safer, more convenient, and more personalized experience.
For more information on this solution, click here; to download the full case study, click here.
About Halla
Halla is a taste intelligence company that enables grocers to predict the personal preferences of their shoppers, all in real time. Halla's Taste Intelligence engine uses Natural Language Processing and statistical Machine Learning to deploy real-time recommendations based on personal taste, dietary preference, etc. across grocers' digital shopping environments. The accuracy of Halla's recommendations leads to significant increases in basket size, margin, customer loyalty and shopper satisfaction. Halla works with some of the largest grocery retailers in the world and participated in Food-X, the leading food innovation accelerator, as well as Endless Frontier Labs. Check out our explainer video here or request a demo of Halla's Taste Intelligence engine at Halla.io
About FutureProof Retail
Founded in 2013 by a group of impatient shoppers and award-winning developers in New York, FutureProof Retail (FPR) brings the best of online shopping offline by creating mobile shopping applications for retailers. FPR's mobile platform features line-free mobile checkout and line-free order-ahead retail. FutureProof Retail offers unique and customizable solutions for many retail verticals: grocery, fashion, big box, convenience, micro-markets, stadiums, airports, and more. For more information or to schedule a demo visit Futureproofretail.com or contact sales@futureproofretail.com.