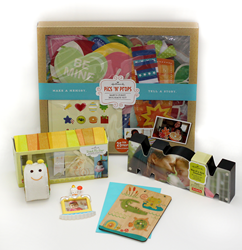 With the 100th anniversary of Mother's Day this year, we want to honor new moms (and soon-to-be moms) on their very first Mother's Day," said Kristi Ernsting, Hallmark
Kansas City, MO (PRWEB) April 02, 2014
In honor of the 100th anniversary of Mother's Day in 2014, Hallmark launches 100 First-Time Moms — a sweepstakes that allows people to nominate a recent or soon-to-be first-time mom to win a $100 Mother's Day care package from Hallmark.
Between today and April 30, 2014, consumers can go to newsroom.hallmark.com/100Moms to nominate. Hallmark will randomly select 100 nominations and send the winners a prize package (valued at $100 each) filled with the following gifts that help moms capture and celebrate special experiences throughout baby's first year:

"Watch Me Grow" Growth Chart Kit includes a fun snail growth chart, plus paper flags to record the date and little one's age at each milestone.
Pics 'n' Props Baby's First Holidays Kit features 25 holiday photo props ranging from a patriotic Fourth of July hat to a "My 1st New Year" sash. The kit also includes an album to hold all the holiday photo memories from baby's first year.
One-of-a-Kind Creations "MOM" Frame helps mom display her favorite family picture in a unique way.
Baby's First Birthday Keepsake Ornament doubles as a photo holder that will help mom relive a precious milestone — her little one's first birthday — each holiday season.
Hallmark Signature Collection baby card features a functional wooden puzzle on the cover and celebrates a mom's ability to "love, hug, play and repeat."
"With the 100th anniversary of Mother's Day this year, we want to honor new moms (and soon-to-be moms) on their very first Mother's Day," said Kristi Ernsting, program manager. "Motherhood is a special kind of journey, and the first year is filled with so many milestones for baby and mom. Hallmark's products help moms capture and remember those important firsts."
Each person who submits a nomination will be entered into a sweepstakes to win one of five Hallmark Gold Crown® gift cards ($100 value each) to be selected at the end of the program. Complete 100 First-Time Moms program rules are available on Newsroom.Hallmark.com, and the full suite of Mother's Day products is available at Hallmark Gold Crown stores.
Additional Mother's Day Stats & Facts

President Woodrow Wilson issued the proclamation to create Mother's Day on May 9, 1914.
Hallmark began creating and producing Mother's Day cards in the early 1920s.
Mother's Day is the third-largest card-sending holiday in the United States, with 133 million cards exchanged annually.
Mother's Day is the second most popular holiday for gift-giving, following Christmas.
About Hallmark Cards, Inc.
Hallmark makes the world a more caring place by helping people express what's in their hearts and connect in emotional ways with others. In the U.S., innovative Hallmark greeting cards and gifts are sold through leading mass retailers, the network of Hallmark Gold Crown® specialty stores and online. Worldwide, Hallmark offers products in more than 30 languages available in 100 countries. Millions of households enjoy family friendly television programming offered by cable's top-rated Hallmark Channel and fast-growing Hallmark Movie Channel. Hallmark's Crayola subsidiary inspires artistic creativity in children through Crayola® crayons and markers as well as other innovative art tools, crafting activities and creative toys. Privately held Hallmark is based in Kansas City, Mo., and continues to be led by members of the founding Hall family. Visit http://corporate.hallmark.com for more details.