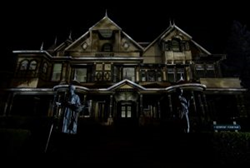 San Jose, CA (PRWEB) October 05, 2017
The Winchester Mystery House in San Jose, CA, known as one of the world's most haunted places (Time Magazine), is back this year with Halloween Candlelight Tours, available for 20 nights in October. The Winchester Mystery House has partnered with the elegant and chic Hotel Valencia in Santana Row for the second year to create the Stay and Scare package. The package includes accommodations at Hotel Valencia, discounted tickets for the Winchester Mystery House Candlelight Tour, a surprise special Winchester amenity, discounted drinks at Vbar and complimentary breakfast. The package is priced starting at $229 per night on the weekend and $379 during the week.
On the candlelight tour, guests will experience the psychological thrill of guessing what lurks in the shadows. At the 132-year old mansion, sinister feelings creep into the bones of the house, and those within, as they see the terrifying tug of war between Sarah Winchester and the malevolent psychic medium who pitted her against the spirits trapped in the house.
The story of Sarah Winchester is currently being produced as a feature film starring Academy Award-winning actress Helen Mirren as Sarah. The period paranormal thriller Winchester is due in theaters in spring 2018.
For now, brave souls can trail the caretakers of the house as they try to avoid seeing who has permanently taken up residence in the mansion. See the foreboding legend in person October: 6, 7, 8, 13, 14, 15 and October: 18, 19, 20, 21, 22, 25, 26, 27, 28, 29, 30, 31.
Visitors headed to San Jose in October can continue the scary fun with more events including:

The Eighth Annual Dia de Los Muertos Festival, (Oct. 21, 2017): Dia de Los Muertos, also called Day of the Dead, is a celebration of life, and the Dia San Jose festival celebrates this rich tradition with live Cumbia, Rock en Español and Mariachi, 25 local Chicano artists, cultural performances from Calpulli Yaocuauhtli, luchadore matches in the ring and classic low riders vehicles.
California's Great America presents Halloween Haunt (Oct. 1-31, 2017): Halloween Haunt, Northern California's biggest Halloween haunted attraction, features mazes, scare zones, live shows and monsters around every dark corner. The haunt lasts all October.
Famous Monsters Halloween Convention (Oct. 27-29, 2017): Famous Monsters is throwing a Halloween convention with celebrity guests from films and TV shows such as Hellraiser, A Clockwork Orange, American Gods, Pan's Labyrinth, Face Off and even the upcoming Star Trek. The convention will also include haunted houses, VR arcades, a live Rocky Horror Show production and trick-or-treating.
Run with the Zombies (Oct. 28, 2017): San Jose's Kelley Park will play host to a 5K Zombie run this Halloween season. Join this family friendly event and dress up in your best blood and gore.
About The Winchester Mystery House
For nearly 100 years the Winchester Mystery House has stood as a testament to the ingenuity, persistence of vision and lore that surrounds its namesake, Sarah Winchester (heir to the Winchester Repeating Rifle fortune). A true pioneer who crisscrossed the United States via steam train many times during the waning days of the "wild west," Sarah Winchester lives on in legend as a grieving widow who continuously built onto her small farm house to appease the spirits of those killed by the guns manufactured by her husband's firearms company. The mansion is renowned for its many architectural curiosities and paranormal activity. From 1884-1922 construction never ceased as the original farm house grew into the world's most unusual and sprawling mansion (24,000 square feet built at a then astronomical cost of $5 million), featuring: 160 rooms, 2,000 doors, 10,000 windows, 9 kitchens, 13 bathrooms, plus 47 stairways and fireplaces. The estate is listed on the National Register of Historic Places, is a California Historic State Landmark, a San Jose City Landmark and one of the leading attractions in the Bay Area. Additional information may be found at http://www.winchestermysteryhouse.com
About Valencia Group
Houston-based Valencia Group is a fully integrated hospitality company that provides management, development, branding and repositioning services for independent, full-service hotels owned by the company, in addition to third parties. Exceptional service, style and location have become brand trademarks. Earning both national and international recognition for their distinctive designs, amenities and settings, Valencia Group properties are destinations and gathering places within their respective communities, some further benefitting from and enriching their space within the cultural heart of a city. The company continues to forge a niche with hotels that anchor and add value to urban, mixed-use environments, which further support or enhance the guest experience with superior residential, restaurant, retail and office components. The Valencia Group portfolio currently includes the Valencia brands: Hotel Valencia Santana Row in San Jose, CA and Hotel Valencia Riverwalk in San Antonio, TX. The Sorella brand includes Hotel Sorella CITYCENTRE in Houston, TX by developer Midway. The court concept brands include Lone Star Court in Austin, TX and Midway and Valencia Group's Cavalry Court in College Station, TX. New openings in 2017 will include: Midway and Valencia Group's The George™ in College Station, TX and Midway's Hotel Alessandra in Houston, TX. For more information, please visit http://www.valenciagroup.com
About Team San Jose
Team San Jose (TSJ) is an innovative partnership unifying the San Jose Convention and Visitors Bureau, hotels, arts, labor and venues to deliver an exceptional visitor experience. TSJ manages the San Jose McEnery Convention Center, California Theatre, Center for the Performing Arts, City National Civic, Montgomery Theater, Parkside Hall and South Hall. For more information, visit http://www.sanjose.org.