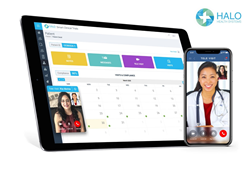 "These capabilities are necessary for ongoing clinical trials as well as for new vaccines and therapies to treat COVID-19," said Mehta. "Televisits are a key feature. They enhance decentralized clinical trials by boosting operational efficiency."
PLANO, Texas (PRWEB) November 17, 2020
In response to the COVID-19 pandemic, Halo Health Systems has added a televisit feature to its clinical trial software that enables decentralized and hybrid clinical trials. With the addition of the televisit capability, patients are able to connect virtually to their clinical trial sites.
"Our aim is to ensure patient and clinician safety and at the same time allow important clinical research to continue during this difficult time," said Veer Mehta, Founder of Halo Health Systems. He said the Smart Clinical Trials application is currently being used at beta research sites that are addressing multiple therapeutic areas.
Partnering with Halo Health on the project is Reveles, a leading provider of decentralized (in-home) clinical research solutions. R'Kes Starling, CEO and Founder of Reveles Clinical Services, said the project will expand the options for patients who want to participate in clinical research.
"Our goal is expanding the population of people who are able to participate in clinical trials by removing barriers that have long existed, particularly for minorities and underserved communities," Starling said. "In addition to benefitting patients, it will support industry sponsors and clinical researchers who also face challenges related to the pandemic."
The application offers three key capabilities:
1. Easy-to-access televisits for online video connectivity among research teams and patients.
2. A "bring-your-own-device" (BYOD) model that makes it easy to participate.
3. Complete HIPAA privacy and security compliance.
"These capabilities are necessary for ongoing clinical trials as well as for new vaccines and therapies to treat COVID-19," said Mehta. "Televisits are a key feature. They enhance decentralized clinical trials by boosting operational efficiency."
The Smart Clinical Trials platform is compatible with existing mobile devices and allow patients to communicate from any location, reducing the burden of travel costs when commuting in-person to clinical trial sites. Once participants download the application, they can connect to a live video to consult virtually with the research team at the trial site. In addition to compliance with HIPAA, the platform is compliant with 21 CFR Part 11 regulations.
"Our patients are expressing much concern to come to our medical complex during this time of pandemic, so having this tool will be a real asset to keeping in touch with our patients and ensuring their safety. " said Allison Camacho, Director Site Operations of Dallas Diabetes Research Center. "We are excited about what Halo's software has to offer to clinical trials. The ability to conduct telemedicine visits through a secure platform, to reduce the number of times patients will have to drive to our site will be very helpful."
About Halo Health Systems
Halo Health Systems is a patient-centric digital platform that accelerates the clinical trials of pharmaceutical and biotech companies through the use of IoT, AI and mobile technologies. It provides telemedicine, remote patient monitoring, patient engagement and workflow automation to collect high- quality data at reduced costs while increasing patient access and diversity.
For more information on Halo Health System, contact info@halohealth.io.