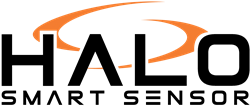 These new features are a game changer for the security industry which did not have a good solution in place for privacy areas.
BAY SHORE, N.Y. (PRWEB) April 08, 2020
The new award-winning features of the HALO IOT Smart Sensor include spoken keyword alerting, gunshot detection and masked signature identification. These new features will be available through HALO's firmware 2.0 update.
Individuals under duress can now utilize a spoken keyword to send instant alerts to security for help in privacy areas that cannot have a camera, areas like bathrooms, hotel rooms, patient rooms, dorm rooms, locker rooms, dressing rooms, apartments, et al. Thousands of incidents still occur in these places each year and needed privacy laws maintain their vulnerability, until now.
Now a daughter in her dorm room, a hotel housekeeper, a patient under duress, a student in a hazing incident or your elderly parent living by themselves can alert security to an attack or emergency situation in real-time by shouting a keyword like "HALO HELP". The audio is still not being recorded maintaining privacy, but the alerts are automatically sent to security for immediate response. To help diffuse situations, the alerts can also trigger an audible message that an emergency has been declared and security has been notified.
Another new feature is the addition of machine learning capabilities to establish audible level "normalcies". Advanced gunshot detection audio analytics can trigger a facility lock-down and an emergency call response via the integration of third-party security applications when detected.
In advancing HALO's vape and THC detection capabilities, a new "masking" signature identification has been established. Individuals who are trying to mask their vaping activity with aerosols will now be flagged with the unique signature identifiers.
All these new features will be available for download via the new firmware 2.0 at no additional cost! This 2.0 release will also now support HTTPS, IPV6 and wireless connectivity allowing for a greater number of third-party integrations. And the addition of the HALO Device Management (HDM) tool to manage and push updates and threshold adjustments to all the HALO's on your network. This tool will save significant time for those IT and Security managers who are using hundreds of HALOs across their campus.
"These new features are a game changer for the security industry which did not have a good solution in place for privacy areas." states David Antar, President of IPVideo Corporation. "We are constantly looking to bring new features to better protect our citizens and I am very pleased that we were able to include these great new safety and technical features at no additional cost to our customers."
HALO IOT Smart Sensor and the 2.0 firmware updates are patent pending.
For further information regarding HALO IOT Smart Sensor and IPVideo Corporation, visit http://www.ipvideocorp.com/halo/ or call 631-969-2601.
About IPVideo Corporation
An industry pioneer since its introduction of one of the first network-based surveillance recording solutions in 1996, IPVideo Corporation is now at the forefront of developing unique, innovative solutions that harness the power of IP video technology. IPVideo Corporation leverages artificial intelligence and machine learning through Internet of Things (IOT) products and professional services. A commitment to an open-standards philosophy and delivering best-in-class performance and value underlies all offerings―from physical security solutions to purpose-built HD audio/video recording solutions for education, law enforcement, healthcare, and training purposes to groundbreaking weapons and theft detection systems. Today, the company's systems are trusted by Fortune 500 companies, government agencies and municipalities, utilities, healthcare facilities, school districts, religious institutions and leading universities worldwide to mitigate risk while protecting people and properties. The company's worldwide client base is served by a network of certified distributors, manufacturer's representatives and hundreds of dealers and system integrators, who benefit from ongoing corporate support and training. IPVideo Corporation is headquartered in Bay Shore, NY. For more information, visit http://www.ipvideocorp.com.