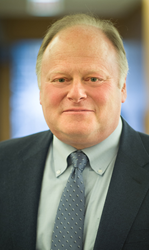 Wolf will deliver his keynote, Data Demand and Challenges in Health Transformation, at the HIMSS Big Data & Healthcare Analytics Forum. In his keynote, Wolf will explore the role analytics plays in transforming health against the challenges of change management in health ecosystems.
New York, NY (PRWEB) October 05, 2017
In his first address in North America, HIMSS President and Chief Executive Officer Harold "Hal" Wolf III will deliver the opening keynote at the upcoming HIMSS Big Data and Healthcare Analytics Forum, the nation's leading face-to-face event for health organizations tackling analytics. The forum kicks off at the Westin Copley Place in Boston, Oct. 23-24, 2017.
Wolf will deliver his keynote, "Data Demand and Challenges in Health Transformation," on Oct. 23, 2017, at 8:35 a.m. In his keynote, Wolf will explore the role analytics plays in transforming health against the challenges of change management in health ecosystems.
"We're really excited to welcome Hal as the keynote this year," says HIMSS Media Executive Vice President John Whelan. "He has over three decades of experience in health and information technology that gives him deep insights into future digital health trends. And for many attendees, this will be their first opportunity to hear from Hal as leader of the HIMSS organization."
Most recently, Wolf served as director of information and digital health strategy at The Chartis Group, where he worked with health systems on operations, digital health, interoperability and precision medicine strategies. Wolf also served 10 years as Chief Operating Officer at Kaiser Permanente's Federation.
Sponsored by Pure Storage, KPMG, MicroStrategy, Tableau/Prominence Advisors, Optum, The Braff Group, and Sirius Healthcare, the two-day Big Data & Healthcare Analytics Forum features 34+ speakers, 22 deep-dive sessions, eight networking sessions, and brings together prominent clinical and business experts from leading organizations who will share critical strategies around driving results, social determinants, operational analytics, reducing readmissions, population health, and more. To register, visit our website.
Event Keynotes:
● Niteesh Choudhry, Executive Director, Center for Healthcare Delivery Sciences, Brigham & Women's Hospital, Harvard Medical School
● Amy Compton-Phillips, MD, EVP and Chief Clinical Officer, Providence St. Joseph Health
● John Quackenbush, Professor, Biostatistics and Computational Biology, Dana-Farber Cancer Institute, Harvard School of Public Health
Featured Speakers:
● Advocate Health Care: Anupam Goel, VP, Clinical Information
● Atrius Health: Joe Kimura, Chief Medical Officer
● Beth Israel Deaconess Medical Center: John Halamka, CIO
● Geisinger Health System: Mark Poler, Physician Informaticist for Enterprise Data Strategy, Division of Informatics
● HIMSS: Shelley Price, Director of Payer and Life Sciences
● Mercy Health Network ACO: Nathan Riggle, Director of Analytics
● Stanford Health Care: Zeeshan Syed, Director, Clinical Inference and Algorithms Program
● UnityPoint Health: Betsy McVay, Chief Analytics Officer
● University of Virginia Health System: Leigh Williams, Administrator of Business Systems
● Visit our event website to register now or see a complete speaker lineup.
About HIMSS
HIMSS is a global voice, advisor, convener, and thought leader of health transformation through the best use of IT with a unique breadth and depth of expertise and capabilities to improve the quality, safety, and cost-effectiveness of health and healthcare. Through its network of over 1 million professionals, including 64,000-plus members, HIMSS advises leaders, stakeholders and influencers globally on IT best practices to ensure decision-makers have the right information at the right time to make the right decisions. HIMSS North America, HIMSS Analytics, Personal Connected Health Alliance, HIMSS Media and HIMSS International (HIMSS Europe, HIMSSAsia and HIMSS Middle East) are the five business units of HIMSS. A not-for-profit headquartered in Chicago, Illinois, HIMSS has additional offices in North America, Europe, United Kingdom, and Asia.
About HIMSS Media
HIMSS Media is the fastest growing B2B media group focused exclusively on healthcare and technology markets. Through its suite of market-leading brands, such as Healthcare IT News, Healthcare Finance and MobiHealthNews, HIMSS Media delivers news, analysis and must-have information to an audience of senior healthcare and technology influencers. HIMSS Media is also the leading producer of important live events, such as the Healthcare Security Forum, Pop Health Forum, Cloud Computing Forum, Precision Medicine Summit, Patient Engagement & Experience Summit, Machine Learning & AI for Healthcare, Healthcare Finance Strategy Summit, Revenue Cycle Solutions Summit, and Big Data and Healthcare Analytics Forum.
PRESS CONTACT:
Karen D. Groppe
Director, Corporate Communications - HIMSS
kgroppe(at)himss(dot)org