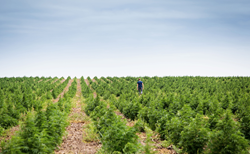 As one of the pioneers of the Hemp and CBD (cannabidiol) industry, we continue to set standards and reach beyond the profit opportunity.
DENVER (PRWEB) October 03, 2019
Hammer Enterprises LLC is proud to announce their FDA Food Facility registration, as well as, ISO 9001:2015 Quality Management System, Non-Genetically Engineered (GE) and USDA Organic certifications ahead of the 2019 hemp harvest.

ISO 9001:2015 Quality Management System Certification – QAS International
Non-Genetically Engineered Ingredients Supply Chain Process Verification Standard Certification – SGS North America
California Certified Organic Farmers (CCOF) – Cannabis Sativa l. (Hemp) Fields
OneCert – CO2 Hemp Oil and Raw CO2 Hemp Extract
In addition, Hammer Enterprises has maintained its Colorado Department of Public Health and Environment's (CDPHE) Manufactured Food Facility registration since 2017 and awarded membership to CDPHE's Environmental Leadership Program (ELP) for their second consecutive year.
Founding Partner and Vice President Harold Robinson elaborated, "As one of the pioneers of the Hemp and CBD (cannabidiol) industry, we continue to set standards and reach beyond the profit opportunity. We feel we have a responsibility to operate sustainably and responsibly as we expand our vertical integration. Since CBD regulations are still a work in progress, we decided to exemplify our mission through transparency, quality control, public health and safety education, and environmental stewardship. We are honored to work in conjunction with government and regulatory agencies to help set standards for the entire industry."
Hemp Processing Plant and Land Certification
Hammer Enterprises has 1,216 acres registered for hemp cultivation in the state of Colorado for 2019. Over 400 acres are certified USDA Organic and the remaining acreage is transitional organic. Hammer Enterprises cultivates all their hemp without the use of genetically modified organisms, chemicals or pesticides.
About Hammer Enterprises
Established in 2015, Hammer Enterprises Integrated Solutions is one of the largest cultivators, manufacturers and distributors of hemp and CBD products in the United States. Through vertical integration Hammer Enterprises can offer a wide range of raw materials and finished products for the food, fashion, nutraceutical, pharmaceutical, pet, cosmetic, and medical research industries. With over 20 years of experience, their mission is to provide safe U.S. grown and manufactured products at competitive prices.
For more information about Hammer Enterprises LLC, or their white label services, please visit them online at http://www.hammerenterprisesis.com or call 1-888-245-1274.