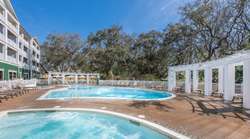 We are thrilled to do our part to celebrate and honor the backbone of the medical profession with this token of our appreciation
JEKYLL ISLAND, Ga. (PRWEB) May 06, 2020
Hampton Inn & Suites Jekyll Island will celebrate nurses during National Nurses Week with a Jekyll Island Dream Vacation Giveaway. The beachfront hotel will accept nominations on its Facebook page throughout National Nurses Week Wednesday, May 6 through Tuesday, May 12. One deserving nurse will be selected on Wednesday, May 13.
Hampton Inn & Suites Jekyll Island's National Nurses Week Dream Vacation includes:
-- Spacious accommodations for 4 days and 3 nights with early check-in and late check-out, daily breakfast and WiFi
-- $250 dining credit at the hotel's Turtle Nest Lobby & Pool Bar
-- Swag bag of Jekyll Island gifts valued at $100
-- $100 dining gift certificate courtesy of Jekyll Island Beach House + Tap Room
-- Nearly $300 in island recreation experiences courtesy of Jekyll Island Authority, including
-- Two rounds of golf with cart rental at Jekyll Island Golf Club
-- One round of mini-golf for two at Jekyll Island Miniature Golf
-- Our hour of court time at the Jekyll Island Tennis Center
-- Jekyll Island History tour for two
-- Mosaic, Jekyll Island Museum entry for two
-- All-day bicycle rental for two
-- Two-hour guided paddleboard or canoe tour for two courtesy of Turtle Tides Jekyll
-- Entry for one to Summer Waves Water Park
-- Complimentary beach chairs throughout the stay
Nominations will be accepted on the hotel's Facebook page at Facebook.com/JekyllIslandHamptonInn from Wednesday, May 6, which is National Nurses Day through Tuesday, May 12, which is Florence Nightingale's birthday. Florence Nightingale is known as the founder of modern nursing. The nomination should include a brief description of why the nominee is deserving of the dream vacation, and the nominee must be tagged. The selected nurse will be announced via Facebook and notified on Wednesday, May 13.
"We are thrilled to do our part to celebrate and honor the backbone of the medical profession with this token of our appreciation," said Jason Smith, General Manager of the Hampton Inn & Suites Jekyll Island. "Now more than ever, the nursing profession should be honored for their selfless commitment to keeping us all healthy and well."
Hampton Inn & Suites Jekyll Island is located on Jekyll Island at 200 South Beachview Drive in Jekyll Island, Georgia. The hotel boasts home-like comforts with resort-inspired amenities. Each spacious guestroom features one King- or two Queen-sized beds, free WiFi, a 37-inch flat-screen TV, mini-refrigerator and microwave, and more. A short walk across a boardwalk through a maritime forest takes guests to the unspoiled beaches of Jekyll Island. The resort-like swimming pool and Turtle Nest pool and lobby lounge are also popular diversions. Guests enjoy free, hot breakfast daily. Owned by Peachtree Hotel Group, Hampton Inn & Suites Jekyll Island is managed and operated by Peachtree Hospitality Management, the management division of Peachtree Hotel Group. For more information or to make a reservation, travelers may call 912-635-3733 or visit http://www.jekyllislandsuites.hamptoninn.com
About Peachtree Hotel Group
Peachtree Hotel Group operates, develops and invests in premium-branded, select- and limited-service and extended-stay hotel assets under the Marriott, Hilton, Hyatt, Choice and InterContinental Hotels Group flags. Since its inception, Peachtree has invested in more than $3.5 billion of hotel properties and first mortgage notes. Peachtree's current portfolio is comprised of 119 hotel assets totaling 15,620 rooms, including 50 real estate assets and 61 notes. For more information, please visit http://www.peachtreehotelgroup.com.
About Peachtree Hospitality Management
Peachtree Hospitality Management is the hotel operations and management division of Peachtree Hotel Group. PHM has developed and tested its systems and processes with passion and attention to detail. It is ranked number 40 on Hotel Business magazine's list of top hotel management companies in 2020 – up 15 spots from 2019. The company's proven, cutting-edge, proprietary operating systems differentiate it from other hotel management companies. The company's range of services include hotel operations, human resources management, sales and marketing, ecommerce and digital strategy, revenue management, centralized accounting, asset management, pre-opening services, renovation project management, food and beverage concept and design.