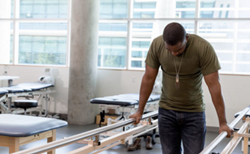 "uncovered mounting evidence that military medical leaders are squandering a valuable wartime asset: the surgeons and surgical teams...."
HOUSTON (PRWEB) January 29, 2020
The law firm Hampton & King, a Houston based Medical Malpractice firm with a focus on Military Medical Malpractice, is pleased to announce a recent reversal of the "Feres Doctrine," which previously barred service members from suing the government for medical malpractice. Now, the new law may allow active-duty service members who are injured by medical negligence to recover for their injuries.
Notably, in a 3-month review of military hospitals and clinics, the Pentagon reviewed 3 years of performance. They uncovered 28 cases of delayed treatment, 34 unexpected infant deaths, 40 cases of wrong-site surgery, 57 unexpected deaths (adult), and 71 cases of leaving a foreign object in a patient during surgery.
The most dangerous military medical installations were:
San Antonio Military Medical Center at Fort Sam Houston (Texas)
Evans Army Community Hospital at Fort Carson (Colorado)
Mike O'Callaghan Federal Medical Center at Nellis Air Force Base (Nevada)
Naval Medical Center (San Diego)
Womack Army Medical Center at Fort Bragg (North Carolina)
Naval Medical Center Portsmouth (Virginia)
Fort Belvoir Community Hospital (Virginia)
Madigan Army Medical Center at Joint Base Lewis-McChord (Washington)
In the most recent 2019 chapter of the investigation into military medical installations, U.S. News "uncovered mounting evidence that military medical leaders are squandering a valuable wartime asset: the surgeons and surgical teams...." The result is a shortage of surgeons and staff, unequipped with the capabilities necessary in a combat theater.
Their investigation also revealed that active-duty patients rarely need surgery outside of combat, and that there are higher complication and death rates in facilities where surgery isn't routinely performed. The combination of staff shortage and unequipped, unpracticed surgeons leads to inadequate military medical care.
"Parents who send their kids to war should be worried about the care they'll get if they're wounded," said an Army surgeon who has cared for scores of injured combatants. "I would be."
Another said, "these 20-year-old kids think they're getting top-notch care. They're not. And it's nobody's fault but the Army's."
With the new amendment to the Feres Doctrine, active duty service members can now seek compensation for medical malpractice and negligence incurred upon them. Responsible parties may now finally be held accountable for medical negligence in the military.
If you or a loved one have been injured by medical malpractice in a military facility, contact our office Mon-Sun 24/7. Legislation may be retroactive as far back as 2018.