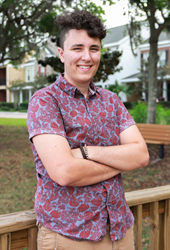 "I made a mock PSA that I find to be funny enough to appeal to a younger generation, yet with enough meaning to really stick with its viewer." - Owen
TAMPA, Fla. (PRWEB) September 17, 2019
In an effort to make our communities safer, Hancock Injury Attorneys encourages students who want to strive for improvement by going to college and educating themselves to tell us how they will make their communities, and beyond a better place. Hancock Injury Attorneys awards a $1,000 scholarship to a hardworking, deserving student every year as part of their continued involvement in their "1% for Good" program. The applicants had to submit an essay on a topic related to keeping our community safer by driving safely.
The first "Hancock Injury Attorneys Scholarship for Working Students" was awarded to Owen Walter, who is currently attending the University of Central Florida and planning on majoring in Film and minoring in Business. He hopes to be a business owner one day combining an entrepreneurial spirit with his passion for filmmaking. Owen's essay and original "Mock" PSA about texting and driving clearly stood out among the many talented applicants.
Please see Owen's Texting and Driving PSA video and winning essay here:
hancockinjuryattorneys.com/scholarship
Owen attended Sickles High School in Tampa where he excelled in his classes, reflected by his perfect, unweighted 4.0 GPA. In addition to his success in the classroom, Owen spent much of his time volunteering with many local philanthropies. Additionally, throughout high school and now in college, Owen works at his own pressure washing business to help him with paying for his education. 10% of the profits he makes from his business go to various charities.
About Hancock Injury Attorneys:
After years handling claims for the insurance industry, Mike Hancock founded Hancock Injury Attorneys in 1996 with a clear understanding of the insurance industry and how to obtain the best results for clients. The firm serves clients throughout Carrollwood, Tampa and Florida, helping injury victims get back their lives after accidents involving wrongful death, auto accidents and slip-and-fall injury cases.