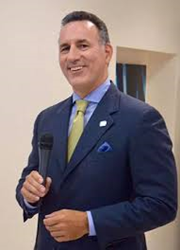 Attempting to soften the impact of a fall with outstretched arms, hands open – a natural reaction – may fracture the elbow.
MIAMI (PRWEB) February 18, 2020
Bracing for bad news may be good defensive strategy but bracing for a fall often is not and may actually end in bad news for upper-limb joints, including the elbow, according to noted orthopedic surgeon Alejandro Badia MD. Attempting to soften the impact of a fall with outstretched arms, hands open – a natural reaction – may fracture the elbow, Dr. Badia indicates. Other causes of elbow injury are a direct blow to the elbow as might occur in sports, car or motorcycle crashes and other trauma or even a simple, low-energy elbow bump.
"The elbow is critical for arm movement. A fracture of that joint may result in significant pain and swelling; limit the arm's rotation, flexion and extension; cause numbness in the arm or hand; and damage soft tissue or one or more of the major nerves and blood vessels traveling through the elbow," Dr. Badia says. "Oftentimes, surgery is necessary to repair it."
In children, elbow fractures, if not properly treated, can hinder bone growth and development, says Dr. Badia, a specialist in treating musculoskeletal disorders of the upper limbs. He is founder and chief medical officer of the Florida-based Badia Hand to Shoulder Center and OrthoNOW®.
Although less frequent than wrist fractures, a break in the elbow often proves more difficult to treat than a broken wrist because of the complexity of the elbow joint, which is a joining of three bones – the upper arm bone, or humerus, that extends from the shoulder to the elbow, and the two forearm bones, radius (on the thumb side of the arm) and ulna (on the 'pinky" finger side). These bones are connected by ligaments, with muscles and tendons stabilizing the joint and allowing the bones to glide around each other like a well-oiled hinge.
Fractures, which may be accompanied by elbow dislocations, ruptured tendons and ligament tears, can affect almost any part of the elbow joint, including the very tip (olecranon) of the elbow and the epicondyles – the protrusions of the humerus on either side of the elbow. However, epidemiologists say fractures of the radial head – the point where the forearm's radius meets the humerus bone – are the most common elbow breaks in adults, especially when arms are extended to break a fall.
Treatment varies depending on severity and complexity of the fracture. Non-surgical approaches for small, stable elbow fractures not directly affecting the joint include prescriptive pain medications; placement of the injured arm in a brace, cast or sling to restrict movement; even ultrasound therapy to help bones mend, Dr. Badia says.
However, surgery is the likely recourse for displaced elbow fractures -- fractures that force bones out of alignment; open fractures, in which a broken end of bone pierces through the skin; injuries that chip a bone into fragments; or breaks that impact nerves or blood vessels, Dr. Badia says.
A common surgical approach is open reduction-internal fixation, in which the physician realigns the fractured bones and then permanently fixes them in place with screws, plates or stainless-steel wires. A patient may also require a bone graft, often removed from the hip, to replace a bone fragment lost by injury. The graft eventually fuses to the broken elbow bone, forming one piece.
If the elbow fracture is severe enough, particularly in an elderly person and with poor quality bone mass, complete elbow joint replacement (arthroplasty) is now commonly done as the recovery is much easier for the patient with less therapy and a better functional outcome. This is essentially a titanium metal and plastic (polyethelene) hinged joint that restores function as often done in advanced arthritis, Dr. Badia says.
The best therapy is avoiding elbow and other upper-limb fractures entirely. For that reason, Dr. Badia offers these prevention tips:

Warm up the body and upper limbs prior to any intense exercise.
Use recommended protective gear, such as elbow pads if appropriate, when engaging in sports.
Fall-proof the home. Ensure stairway and walkway lighting is adequate inside and outside the house; re-locate loose rugs, cords and other objects that create a tripping risk.
Build strong bones through proper nutrition, including foods that offer plenty of calcium. Exercise regularly; stop smoking
Maintain a healthy weight and body mass index.
"Should you injure an elbow, avoid the hospital emergency room and, instead, contact an orthopedic specialist," Dr. Badia emphasizes. It is Important to understand that elbow is a complex area that many orthopedists prefer to refer to an upper extremity/elbow specialist. Important for patients and their families to inquire if complex elbow is a major part of the doctors practice for the more challenging clinical scenarios. "Elbow fractures misdiagnosed or improperly treated can result in malunion of broken bones, joint deformity or permanent nerve damage."
Alejandro Badia, MD, FACS, internationally renowned hand and upper-limb surgeon and founder of Badia Hand to Shoulder Center and OrthoNOW®, a walk-in orthopedic care clinic. He is a member of the American Society for Surgery of the Hand, American Association for Hand Surgery and the American Academy of Orthopedic Surgeons and an honorary member of many international professional hand societies. Dr. Badia specializes in treating all problems related to the hand and upper extremities, including trauma, sports injury, joint reconstruction, nerve injuries and arthroscopic surgeries. Go to OrthoNOWcare.com and drbadia.com.