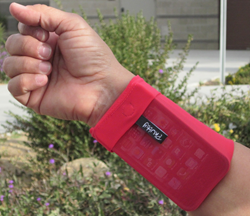 Nifty-Nifty products are an excellent compliment to any crafter's venue!
Charlotte, NC (PRWEB) October 16, 2014
Nifty-Nifty.com, makers of unique, hands-free accessories, 'As Seen on TV' hands-free fashion gadgets, has just announced its call for product vendors and sales representatives.
"We at Nifty-Nifty.com have found that consumers really love our one of a kind products and want to share their enthusiasm with the world, as such, we have administered an open call for Nifty product lovers all across the globe to become sales representatives and or festival vendors", states Nifty-Nifty.com co-founder, Wendy Miller.
"Nifty-Nifty products are an excellent complement to any crafter's venue, and offer entrepreneurs a slew of (wholesale) must-have items to dole out to fashion savvy consumers, resulting in unlimited earning potential", Miller continues. "To find out more about either of these exciting opportunities, please visit Nifty-Nifty.com, and we'll be happy to assist you."
Explore Nifty-Nifty.com's sales opportunities, here:
Nifty-Nifty.com is the one-stop shop for all things hands-free, and offers the most innovative ways to go about one's life, small items securely in tow. From Biker Purses and HipBand Cellphone Holders, to Key Finders, Magnetic Eyeglass Holders, Cross Body Cellphone Purses and more, Nifty-Nifty.com provides the most extensive line of unisex fashion gadgets around.
All items are carefully constructed, using only the finest materials, in order to provide long-lasting, everyday wear. Comfort and convenience are top priority, as are ease of use and small item accessibility. But despite their functionality, don't be fooled into thinking these are some sort of boring products – no sir! Nifty-Nifty.com's creations are as fashionable as they are practical; as unique as they are easy to use.
Consumers should consider becoming a purveyor of the world's most innovative fashion products, by joining the Nifty-Nifty team, today!
About Nifty-Nifty.com  
  Nifty-Nifty.com caters to a diverse clientele from all over the globe. As the world's leading online retailer of innovative, versatile products, Nifty-Nifty.com specializes in nifty products such as Biker Purses, Phubby Wrist Cellphone Holders, Specs-in-a-Sec magnetic eyeglass holders, Cell-Fie HipBand Cellphone Holders and Cross Body Cell Phone Purses, among others. All products are offered at highly competitive prices with zero charge shipping in the USA and Canada.
http://www.Nifty-Nifty.com  Tel. 858-248-2302