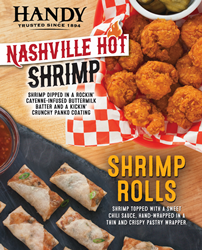 SALISBURY, Md. (PRWEB) October 16, 2019
Seafood enthusiasts looking for innovative, trendy and delicious appetizers now have two new products to add to their shopping carts as Handy Seafood launches its Nashville Hot Shrimp and Shrimp Roll products this month in grocery stores across the country.
The Nashville Hot Shrimp includes shrimp dipped in a cayenne-infused buttermilk batter with crunchy panko breading, and the Shrimp Rolls are shrimp topped with a sweet chili sauce, hand-wrapped in a thin and crispy pastry wrapper.
"We're launching new appetizer products to elevate the category and create interesting, delicious and convenient frozen seafood for consumers," stated Tom Quinn, Vice President of Retail Sales at Handy Seafood. "People want flavor in their seafood and these two products deliver that. We are seeing a demand for regional flavor profiles and you get that from these two products," said Quinn.
For more information about Handy and to view these new products, visit http://www.handyseafood.com
Handy Seafood is a family-owned company with 125 years of quality seafood processing. Products include soft shell crabs, crab meat, crab cakes, seafood specialty items, oysters and artisanal fish. http://www.handyseafood.com.
To view previous Handy innovations, go to: https://www.handycrab.com/news