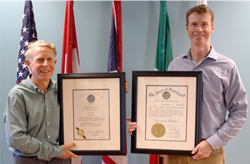 SALISBURY, Md. (PRWEB) October 14, 2019
On September 27, 2019, Handy Seafood was recognized at the Crisfield Legacy Dinner in Crisfield, MD for Handy's 125th anniversary. At the event, Sen. Mary Beth Carozza (R-MD) presented Handy Seafood with a Governor's Citation. This award honors the 125th anniversary of Handy Seafood, recognizing their success and commitment to providing exceptional customer service to the community.
Sen. Carozza also presented a resolution from Senate of Maryland recognizing Handy Seafood for becoming the first seafood processor in the United States to reach 125 years and appreciation for providing high quality products and outstanding customer service.
Handy Seafood is a family-owned company with over 125 years of quality seafood processing. Products include soft shell crabs, crab meat, crab cakes, seafood specialty items, oysters and grouper. http://www.handyseafood.com