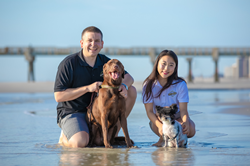 When you combine the marketability of this brand and the intense quality of our products with the Jacksonville/St. Augustine community, success comes naturally. The community has embraced the idea that fresh is better and delivery is easy. - Nick Saam
JACKSONVILLE BEACH, Fla. (PRWEB) February 18, 2020
Nick Saam and Hannah Kim, the local owners of Pet Wants Jax Beach, have been recognized with the Pet Wants 2019 Franchise of the Year Award. The award was presented at the company's national conference on February 4, 2020.
"Nick and Hannah were recognized because of their outstanding ongoing business growth, as well as their overall support of the franchise system. Since coming on board in 2018, Pet Wants Jax Beach has seen phenomenal growth, achieving double digit year over year growth every month. They are constantly innovating their business with an eye on growth and Nick and Hannah are always quick to help other franchisees. I'm proud of their accomplishments in 2019 and look forward to their future achievements in 2020 and beyond," Pet Wants President Scott Hoots said.
Pet Wants Jax Beach is a mobile business – operating as both a mobile shop and a pet food truck out of a renovated 1969 Airstream – and they offer free delivery of their products and locally-sourced pet products to the entire Jacksonville area. In addition to finding them at local farmer's markets, Hannah and Nick take their mobile shop to food truck events, so pets can join in on the party with single-serve meals.
"2019 was our first full year in business, so to be recognized as Franchisee of the Year was as rewarding as it was surprising. In large part, we owe our success to the folks around us - the community. Like-minded people dedicated to the well-being of their pets have been very responsive to our concept," Saam said. "A Pet Food Truck that offers free local delivery is unique and interesting to many people and, when you combine the marketability of this brand and the intense quality of our products with the Jacksonville/St. Augustine community, success comes naturally. The community has embraced the idea that fresh is better and delivery is easy."
Pet Wants' multiple blends of specially-crafted pet food formulas are made in small batches with fresh, natural ingredients enhanced with vitamins and minerals for a complete and balanced diet in every bowl. Their popular, all-natural treats are made with one ingredient – as nature intended. Treat options include chicken, beef and beef heart jerky as well as freeze-dried beef liver. Freeze-dried mussels and turkey jerky are coming soon. Pet Wants Jax Beach also offers a holistic approach to pet health with Cannabidiol, better known as CBD, products and their homemade products with essential oils to naturally heal and calm dogs and protect them from insects.
"Our producer makes our food monthly and ships it directly to our warehouse, meaning it's the freshest pet food on the market, by far, and because we get our food directly from our producer there is no expensive warehousing. That allows us to offer our products at an extremely competitive price. Our branded treats are delicious, if I do say so myself. I've tried each and every one and can confirm - delish! We use human-grade ingredients and a quality production process and that makes for super high-value treats that pets go nuts for," Saam said.
Saam and Kim also earned the Rookie of the Year Award last year after opening in the fall of 2018 and have been recognized as members of the President's Club for their outstanding sales achievements. Looking to the future, Saam and Kim are preparing to open at least one retail store in 2020 and hope to do the same in 2021.
Pet Wants has a 100-percent, money-back guarantee on the freshness and quality of the food and the company only sources the best salmon, chicken, lamb, brown rice and other ingredients available. There's no sugar added, no fillers and no animal by-products and Pet Wants never uses corn, wheat, soy or dyes, which makes the food great for animals with allergies. Pet Wants has nearly 100 locally-owned locations nationwide.
To learn more about Pet Wants Jax Beach or to place a delivery order, call (904)373-8770, email HKim@PetWants.com or NSaam@PetWants.com, or visit http://www.PetWantsJaxBeach.com.