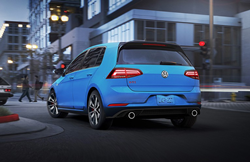 SANTA ROSA, Calif. (PRWEB) April 01, 2021
Hansel Volkswagen, the local Volkswagen dealership serving the Santa Rosa, CA community is offering two different oil change discounts for drivers in the area. The first one is a discount on a diesel oil change, and the second one being for a synthetic oil change.
Interested drivers can get a synthetic oil change for $129.95 at Hansel Volkswagen, and the coupon must be presented when the service order is written. It is recommended that drivers get a synthetic oil change for their vehicle at least once a year, or every 10,000 miles, whichever occurs first. This coupon is only valid at Hansel Volkswagen and may only be redeemed once. This coupon cannot be used with other offers as well.
Drivers who own diesel-operated vehicles can get a diesel oil change for $129.95 at Hansel Volkswagen as well. All the same, terms apply, with this only being a one-time offer, and that the offer cannot be redeemed with any other discounts or promotions. The service includes brand-new diesel engine fuel and an oil filter change with Volkswagen-approved oil.
Drivers who are interested in this promotion can find more information about these offers by visiting the Hansel Volkswagen website at https://www.hanselvolkswagen.com/?utm_source=prweb&utm_medium=press_release&utm_campaign=2021april1. Once there, go to the specials tab and drop down to where it says service and parts specials. The coupon can then be scanned by a smart device and saved onto a cellular device that drivers bring to the dealership to redeem. Other promotions and discounts can also be found under the specials tab on Hansel Volkswagen's website.