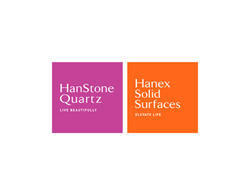 The rebrand of both HanStone Quartz and Hanex Solid Surfaces centers around the beauty of life. The newest branding draws inspiration from the joy, freedom, and passion found in everyday life.
ATLANTA (PRWEB) October 05, 2018
Leading surfacing manufacturer, Hanwha L&C l Surfaces, has announced the rebrand of both HanStone Quartz and Hanex Solid Surfaces, centering around the beauty of life. The newest branding draws inspiration from the joy, freedom, and passion found in everyday life.
HanStone's recently released marble look Boutique Collection was the first step toward being a more lifestyle-centric brand. As part of the branding initiative, HanStone has created a colorful new logo, as well as implemented a new tagline: "Live Beautifully". At the core, the tagline is an invitation, or even a challenge, to make the most of every single day. "'Live Beautifully' is more than just physically living in a beautiful space but is a call to live an authentically beautiful life. At best, HanStone is merely a backdrop that plays just one small part of a beautiful space and a beautiful life," says Mark Abbas, Marketing Director of HanStone Quartz. "Our new branding reflects HanStone's commitment to understanding the designers and craftspeople whom we serve and their desire to create beautiful, meaningful spaces. Our focus going forward is on our brands, rather than our corporate entity. Our brands and our people are the true and meaningful connection we have with our customers and design professionals." To bring this new identity to life, the HanStone website will receive an updated, lifestyle-focused aesthetic, shifting away from one that is product-centric. In addition to an update website, HanStone has also launched a new brand video.
With a state-of-the-art North American manufacturing facility located just two hours from Detroit in London, Ontario, HanStone offers design flexibility to make any vision a reality. Having unequaled consistency of color, texture, and quality along with up to six times the strength and durability of granite surfaces, HanStone Quartz can confidently handle the challenges of everyday life.
The new Hanex Solid Surfaces branding includes a revamped logo featuring its signature color, orange. This rebrand also welcomes a new tagline: "Elevate Life", reflective of the brand's goal to enrich the lives of the people who live, work and play in those spaces by understanding what really matters, beyond aesthetics alone. Hanex recognizes that surfacing is just one component of a successful project - a beautiful space that creates the backdrop for what matters – and what really matters is something that can only be defined by you. With 80 colors to choose from, as well as stain-, impact-, and heat-resistance properties, Hanex has the perfect color to create the ideal setting. The clean, smooth and durable surfaces of Hanex can help reduce maintenance and cleaning time, giving you more time for life's important moments. The timing of the Hanex rebrand is perfect, with our new production line located in Texas slated to begin production later this year, offering North American solid surface buyers and specifiers a strong new supply of solid surface closer to home.
In addition to these rebrands, Hanwha L&C l Surfaces has named Michael Talbot as Product Design Manager. As a licensed interior designer who has designed many successful product lines for residential and commercial interiors, Talbot will be able to translate design trends into bold new colors like never before. "Bringing Michael on board is a testament to our focus on our customers, giving them what they want and need while leading them to new places and ideas they maybe hadn't even thought of," says Abbas.
HanStone Quartz. HanStone is easy to maintain, eco-friendly, stain resistant, durable, nonporous and heat resistant. HanStone's innovative approach enables the company to deliver the most consistent quality of product on the market today. Offering beauty that's tough enough to stand up to everyday life, with classic hues and movements, HanStone Quartz celebrates the natural world around us, while being on trend and appealing for all interior aspirations. To learn more about HanStone Quartz please visit http://www.hanstonequartz.com.
Hanex Solid Surfaces. Hanex is one of the most durable, affordable surfaces on the market - which is as versatile as it is gorgeous. Hanex is stain resistant and nonporous, making it the ideal surface for commercial applications. To view the entire spectrum of Hanex Solid Surfaces colors and styles visit http://www.hanexsolidsurfaces.com.
About Hanwha Surfaces
Hanwha Surfaces, based in Atlanta, GA, sells and markets high-quality surfacing products under HanStone Quartz and Hanex Solid Surfaces brand names. HanStone Quartz is the company's flagship product that led to the opening of a state-of-the-art 200,000 square foot manufacturing facility in London, Ontario, Canada. Hanwha Surfaces is the North American subsidiary of Hanwha Living & Creative (Hanwha L&C), a South Korea based corporation.