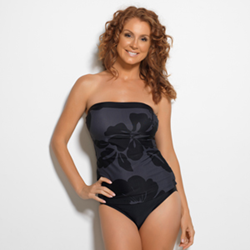 2014 will be the first time we've introduced three collections within a year, and we could not be more excited!
Scottsdale, AZ (PRWEB) July 31, 2014
During the past seven months, Hapari International has seen banner-year growth.
After nearly selling out of its first two swimwear collections for 2014 — Tahiti and Palm Desert — in the first half of the year, Hapari is set to release a third collection, which will be introduced for fall. The fall collection, code-named Blue Lagoon, is anchored with elegant prints along with a brilliantly vibrant ikat design.
"The popularity of our Tahiti and Palm Desert collections has been inspiring," said Tasha Carson, Hapari's lead for design and marketing. "2014 will be the first time we've introduced three collections within a year, and we could not be more excited!"
In addition to its fall collection, Hapari will introduce "Midnight Hibiscus" to its line on August 1 as a limited edition print. Midnight Hibiscus will be available in seven tankini styles, three one-piece swimsuit styles, and four bikini styles.
"Because of the success we saw with Tahiti and Palm Desert, we are really excited to release Midnight Hibiscus as a limited-edition print," said Carson. "Like all of our swimwear, Midnight Hibiscus is designed to flatter a woman' s figure, and we really think this beautiful print is going to quickly become a new favorite among Hapari fans."
Moving into the second half of 2014 and into its collections for 2015, Hapari plans to expand its offerings with a line of rash guards, new cover-up options, and an increased focus on its plus size line.
Hapari's record growth hasn't been limited to just swimwear sales. The swimwear company has experience tremendous growth in the social arena as well. Hapari's Facebook following has quadrupled since last summer and nearly doubled since the beginning 2014, and they've seen similar growth on Twitter, Pinterest, Instagram, and Google+.
"We want to be able to connect and interact with our followers and fans in a meaningful way," said Car-son. "We've been able to have a lot of fun with our fans this year with our model search contest and trip give-aways to Tahiti, Palm Desert, and Honolulu. But we are also providing useful tips and information on a range of topics through our Hapari Reflections blog. So far this year, our most popular blog has been our 'DIY Self-Tanner' post."
About Hapari International, LLC:
Hapari Swimwear, with offices in Phoenix, Ariz., is in its ninth year of business selling swimwear for the everyday woman. Hapari is an international designer and branded manufacturer of swimwear and provides distinctly beautiful tankinis, bikinis, and one-pieces to enhance a woman's natural beauty. In addition to its online store, Hapari has retail locations in Kaysville and American Fork, Utah.