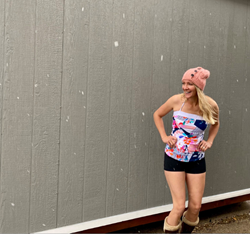 "I want to be a HAPARI model because I want to teach my girls, and all girls, that there are no limits," said Merrill. "You can set goals, you can dream dreams and you can be anything."
SCOTTSDALE, Ariz. (PRWEB) January 09, 2021
HAPARI International announces Michelle Merrill, a 36-year-old mother of five and second grade reading intervention teacher, is the winner of the 2020 HAPARI Model Search Contest and Photoshoot Experience.
"We brought back our fan-based Model Search Contest this year to give back to our HAPARI community," said Tasha Carson, Owner and Designer for HAPARI. "We are so excited to announce Michelle as our winner. It was extremely competitive. We received over 300 entries from around the U.S. and nearly 10,000 votes were cast."
Merrill received nearly 3,000 votes to win the contest. "I want to be a HAPARI model because I want to teach my girls, and all girls, that there are no limits," said Merrill. "You can set goals, you can dream dreams and you can be anything."
As the 2020 Model Search Winner, Merrill is invited on an all-expenses-paid trip for her and a guest to be on-location with HAPARI during their next photoshoot, an opportunity to model in a professional editorial photoshoot with professional hair and makeup, a $2,500 cash prize, and a $1,000 HAPARI shopping spree.
The second and third place winners, Karly Jenkins and Miranda Deterline respectively, each won cash prizes and HAPARI shopping credits.
HAPARI announced it was bringing back the Model Search Contest and Photoshoot Experience as part of a series of contests and giveaways the company sponsored throughout 2020 to give back to its community of social media followers, customers and fans.
In addition to their first Model Search Contest in 2011, HAPARI also hosted model searches in 2013 and 2014.
"We are incredibly grateful for the continued support from our customers and followers," said Carson. "They stuck by us during a hard year, and we are grateful to be able to give back to them through our contests and giveaways."
To date, the organization has given away 30 different prizes totaling approximately $25,000 in value, including a Peloton bike, Costco/Amazon gift cards, iPads, BBQs and laptops.
For more information on HAPARI's contests and giveaways, visit https://www.hapari.com/i/contests-and-giveaways.
About HAPARI International, LLC: Founded in 2004 by moms who took issue with the limited offerings in the swimsuit industry, HAPARI offers swimwear that enhances a woman's natural beauty – no matter her shape – and provides a flattering, comfortable fit. HAPARI believes every woman should look and feel great in her swimsuit.