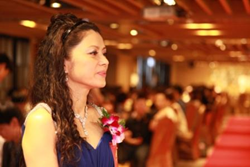 I have not met anyone in any part of this planet who, deep down in his or her heart, does not want a happy lasting relationship
(PRWEB) August 27, 2014
Steve G is a medical consultant in the bio-technology field for large hospitals in the Brooklyn NY area.
He has been working in this field for over 10 years and has a stable 5 figure income every month.
Steve has 2 children in college and both are outstanding in their studies. He owned a house in a Brooklyn suburb and has everything he needed to live comfortably.
When asked about a dream he has not yet achieved, Steve said wistfully, "I like to have a happy lasting marriage."
Steve has been divorced for 14 years. After his divorce, he has been dating cautiously with different partners.
"I don't want to jump into marriage without making sure that person in front is the absolute right one." said Steve.
His longest serious dating lasted 6 years and he ended up breaking up with his girlfriend over petty quarrels. After that, he fell in love with a woman -- however the relationship did not continue because of one factor: his marriage "phobia."
"I keep on holding myself back though I know she is the right one. She brought up the M word several times and I keep on giving her all kinds of excuses. She has no choice but to move on. All my serious dates moved on." Steve remarked.
"It is sad to see many lovebirds get separated because one or both sides are afraid of marriage." commented Hellen Chen, bestselling author and matchmaker extraordinaire.
Chen has helped over 100 men and women who had lost hope in marriage or are afraid due to past heartbreaks.
"Some individuals took years to overcome their marriage phobia. But once they conquer it and they gain confidence in the new relationship, they are always happy." said Chen.
Chen knew of Steve's story and commented that his story is all too "typical."
Having traveled around the world to close to 20 countries and lecturing and consulting men and women from different cultures, Chen shared, "I have not met anyone in any part of this planet who, deep down in his or her heart, does not want a happy lasting relationship. They may have their doubts and fear. But given the chance, they all want to love and be loved."
Chen made the analogy of failing in marriage to failing in a business or in a competitive sports, "So you may not have gotten it right the first time. It is silly to throw in the towel without figuring out and learning what mistakes were made and how to improve in the future."
Chen prescribes "relationship knowledge" rather than having "marriage phobia."
"What do men want? What do women want? What are the traps to avoid? If you know the needs and wants of both sides and you know how to avoid the pit holes and stay in love no matter what, you will be a winner in your marriage." said Chen.
As a three-times #1 bestselling author, Chen has written 25 books on the subject of love and relationships.
She has also delivered "love workshops" for singles and married individuals around the world. Her new love seminar will be held in Los Angeles on September 6.
Call 800-912-0510 or visit http://MatchmakerOfTheCentury.com for more information.