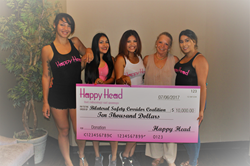 It's great working for a company that uses their success to help those in need that cannot help themselves.
San Diego, CA (PRWEB) August 25, 2017
While many would think that the Happy Head name for a massage center is just a funny pun, the residents of San Diego who frequent the establishment know better. The Happy Head regularly uses their funny name and resources to assist the victims of human trafficking. They recently donated $500 worth of gift cards to be auctioned off at the Casablanca event scheduled for October 13, 2017. This event is brought to the public by the Bilateral Safety Corridor Coalition (BSCC). BSCC is a human rights based organization founded in 2002 that actively works to prevent, intervene and eradicate human trafficking. BSCC is a local San Diego based organization that works to empower and help their clients regain their independence. They provide shelter, emergency response, crisis intervention and much more. The funds raised from the event will go towards providing shelter, bus passes, and more for the silent victims of human trafficking.
Happy Head Massage has a history of giving towards this worthy cause. Just recently the Happy Head was able to raise $10,000 which was donated to the BSCC to help them in their fight. They have also set up a proud supporter page at http://www.happyheadmassage.com/proud-supporter/ to help other organizations looking for assistance from local businesses in San Diego.
When asked about why the Happy Head chose to help organisations that help combat human trafficking, Charleen, a manager at Happy Head said "Every once in a while someone will come in asking if our therapists do additional services which in the massage industry means sexual services. The Happy Head name gives us the opportunity to educate these individuals about the silent victims of human trafficking and hopefully make a dent in the industry. It's great working for a company that uses their success to help those in need that cannot help themselves."
A purchase at Happy Head Massage or on their website at http://www.HappyHeadMassage.com may help worthy causes such as fighting human trafficking, local schools and charities, kid's sports teams, and many more. What once was just considered a funny name that helped bring attention to a massage center in San Diego, has become a name that may have the potential to save countless lives.