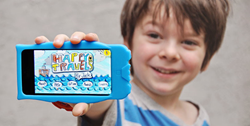 At just five years old, the release of Happy Travels makes Jack one of the youngest game designers ever.
Lehigh Valley, Pennsylvania (PRWEB) July 09, 2014
Lots of five-year-old kids play video games, but at only five years of age, Jack already made one. Working with the help of Mommy (a graphic designer) and Daddy (a coder), Jack has created Happy Travels™, an app about an adventurer who visits exotic destinations in search of treasure chests filled with loot.
The artwork and imagery in the game are entirely of Jack's own design, which he creates using pencils and Crayola® crayons. Everything from the backgrounds to the vehicles to the enemies are dreamed up and drawn by Jack. Mommy then scans the illustrations and Daddy codes them to come to life exactly as Jack envisions them.
In the game, a player controls Jack's vehicle on a hand-drawn theatrical stage. The player must avoid obstacles and enemies while collecting the required booty from treasure chests. The game features six unique books, each containing 15 chapters, and set in a different exotic location such as the Bermuda Triangle, a rainforest, and outer space.
The release of Happy Travels makes Jack one of the youngest game designers ever. Educated through The Pennsylvania Cyber Charter School, Jack quickly moved through kindergarten and completed first grade way ahead of schedule. In addition to his studies, Jack is learning how to code with Daddy, and also enjoys reading, having recently finished biographies on both Steve Jobs and Bill Gates. He loves being out in nature and exploring new places, two aspects he uses as the foundation for his app.
Visit http://www.HappyTravelsByJack.com for Jack's complete, super cute story of how this app came to be. Happy Travels is currently available for free download on iOS, Android and Amazon Kindle.
http://facebook.com/HappyTravelsByJack
http://www.HappyTravelsByJack.com
If you'd like more information about this topic, please contact his "Old Skool Parents" at 877-567-2724 or contacts(at)HappyTravelsByJack(dot)com.