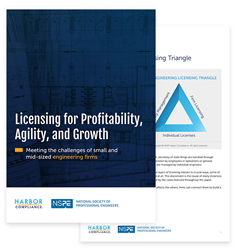 This guide allows smaller firms to pursue growth while remaining compliant with sometimes confusing licensing laws and regulations.
LANCASTER, Pa. (PRWEB) October 04, 2018
Today Harbor Compliance and the National Society of Professional Engineers (NSPE) released "Licensing for Profitability, Agility, and Growth: Meeting the Challenges of Small and Mid-Sized Engineering Firms," a white paper that presents strategies for managing engineering firm licenses to meet business goals.
The white paper examines little-known connections between entity management, company licensing, and individual professional engineer licensing that form the foundation of regulatory compliance and good standing. Tactics are provided to help firms respond faster to opportunities, streamline internal processes, and ensure continuous licensure at various phases of the corporate lifecycle. The white paper can be downloaded now on the Harbor Compliance website.
According to John Beck, director of market strategy for Harbor Compliance, the guide was produced in response to challenges engineering firms encounter when working across multiple jurisdictions. "With different requirements in each state, firms have due diligence to perform before pursuing opportunities in new geographies," he said. "There are entity management issues to address as well as firm licenses, also known as certificates of authorization, in a majority of states. This guide does a lot of the legwork for them by detailing requirements in all 50 states and providing appropriate resources."
"Licensed professional engineers in responsible charge not only protect the public health, safety, and welfare, but also form the foundation of any company license," said Michael Aitken, P.E., F.NSPE, the president of NSPE. "This guide allows smaller firms to pursue growth while remaining compliant with sometimes confusing licensing laws and regulations."
"Ultimately, our goal is to help engineering firms anticipate licensing needs and address them earlier in the business development cycle to capture more opportunities," Beck said. He invites engineering firm leaders who have questions about any aspect of business licensing and compliance to get in touch or call 1-888-995-5895.
About the National Society of Professional Engineers
Established in 1934, The National Society of Professional Engineers stands today as the only national organization committed to addressing the professional concerns of licensed PEs across all disciplines. NSPE was founded to realize a simple but vital goal: create an inclusive, nontechnical organization dedicated to the interests of licensed professional engineers, regardless of practice area, that would protect engineers (and the public) from unqualified practitioners, build public recognition for the profession, and stand against unethical practices and inadequate compensation.
About Harbor Compliance
Founded by a team of government licensing specialists and technology trailblazers, Harbor Compliance is a leading provider of compliance solutions for organizations of all types and sizes. Since 2012, Harbor Compliance has helped more than 12,000 businesses and nonprofits apply for, secure, and maintain licensing across all industries and activities. The company's headquarters are located at 1830 Colonial Village Lane, Lancaster, Pennsylvania.