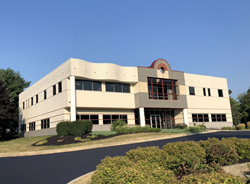 We're excited to reach this milestone in our company's development, thanks to exceptional dedication and hard work by our employees.
Lancaster, Pa. (PRWEB) July 19, 2018
Harbor Compliance, a provider of regulatory compliance solutions based in Lancaster, is moving to a new headquarters at 1830 Colonial Village Lane in Greenfield Corporate Center on July 30. Founded in 2012 by CEO Mike Montali and CIO Megan Danz in a one-room office in Lancaster, the company has experienced 1,344 percent revenue growth over the past three years and is expanding into a facility encompassing roughly 25,000 square feet.
Harbor Compliance doubled its workforce during the first six months of 2018 and continues to recruit staff to meet growing demand. "At this point, we have employees working around our conference table, and more arriving every day, so we're very excited about moving to our new building," said Montali.
The company's current job openings include software developers, compliance specialists, sales executives, administrators, and more. Professionals with experience in the legal, financial, nonprofit, government, and related sectors are encouraged to apply. "Lancaster has proven an ideal location for our business, which requires highly skilled professionals who are eager to learn and grow," said Danz. "The low cost of living, local amenities, and quality of life help us attract great candidates."
"We're excited to reach this milestone in our company's development, thanks to exceptional dedication and hard work by our employees," Montali said. "The service they provide has been the foundation of our success, creating lasting client relationships that drive continued growth."
Harbor Compliance provides businesses and nonprofits with full lifecycle compliance solutions, from corporate formation to nationwide licensing and entity management. Through a unique combination of expert support and cloud-based software, the company helps organizations of all sizes overcome regulatory hurdles that can waste staff hours, impede growth, and pose financial risk.
"It's so gratifying to reach this milestone as a team," said Danz. "We're all eager to launch the next stage of our corporate journey in our new headquarters."
Business and nonprofit leaders are encouraged to get in touch or call 1-888-995-5895 with questions about any aspect of regulatory compliance.
About Harbor Compliance
Founded by a team of government licensing specialists and technology trailblazers, Harbor Compliance is a leading provider of compliance solutions for companies of all types and sizes. Since 2012, we have helped more than 12,000 businesses and nonprofit organizations apply for, secure, and maintain licensing across all industries and activities. Our new headquarters are located at 1830 Colonial Village Lane, Lancaster, PA.