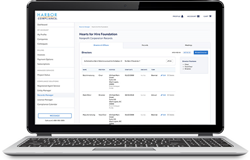 Records Manager offers a simple and efficient way for organizations to store sensitive corporate documents, record ownership, and track board meetings.
LANCASTER, Pa. (PRWEB) February 14, 2020
This week Harbor Compliance launched Records Manager to help businesses and nonprofits store corporate records, view ownership and management information, and track meetings and minutes.
Records Manager is a new module within Harbor Compliance's already expansive compliance software suite. This tool offers a simple and efficient way for business and nonprofit organizations to store sensitive corporate documents, record ownership, and track board meetings. Users collaborate easily with management and board members to maintain one single source of truth. The solution reduces administrative time spent searching for documents and information and provides seamless continuity through every organizational transition.
Securing documents within Records Manager will have the additional benefit of simplifying ongoing compliance. "One of the most common struggles we see for both nonprofits and businesses is trying to keep track of and manage important corporate records. Without one, easy-to-access hub for those documents, an employee leaving, a problem with a server, or misplacing a file can be a serious issue. Not only can that information be lost, but it can create issues for keeping the organization compliant," said John Beck, Harbor Compliance Director of Market Strategy. "That's why we are providing a solution that protects that information without adding hassle. This platform gives an out-of-the-box solution for business continuity planning, disaster recovery, and staff continuity."
Records Manager will act as a consolidated hub for important records. This includes company bylaws, meeting minutes, entity formation records, officer and director information, stock and ownership information, and more.
The functionality of Records Manager, when combined with the rest of our software suite, allows you to store all business entity information, all licenses, and now all records. To learn more about Records Manager and the entire compliance software suite, schedule an online demonstration with a Harbor Compliance representative today.
About Harbor Compliance
Founded by a team of government licensing specialists and technology trailblazers, Harbor Compliance is a leading provider of comprehensive compliance solutions for businesses and nonprofits nationwide. Since 2012, we have helped more than 25,000 businesses and nonprofit organizations apply for, secure, and maintain licensing across all industries and activities. The company's headquarters are located at 1830 Colonial Village Lane, Lancaster, Pennsylvania. To learn more, visit http://www.harborcompliance.com, or call 1-888-995-5895.