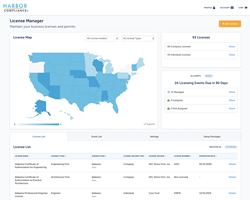 Our highly specialized data, software, and expertise work together to allow unprecedented flexibility and control for maintaining compliance.
LANCASTER, Pa. (PRWEB) November 07, 2019
Harbor Compliance has earned a place among the fastest growing technology companies in North America, ranking 147th on the Deloitte 2019 Technology Fast 500.
"We formed Harbor Compliance to bring transformative technology to a timeworn challenge: how to meet complex, varied, and changing regulatory requirements in every state reliably and efficiently," said Harbor Compliance Chief Executive Officer Mike Montali. "Our continued fast growth since our founding in 2012 reinforces the extent of the challenge that organizations face and confirms the universal value of our software as the solution."
"Our highly specialized data, software, and expertise work together to allow unprecedented flexibility and control for maintaining compliance," said Chief Information Officer Megan Danz. "Our software-as-a-service clients get access to the same database of requirements and advanced tracking tools our in-house experts use. Our staff and client staff work side by side in the software, where it is clear who is handling which filings and tasks."
Montali and Danz formed the company to help nonprofits and businesses manage licensing and other government paperwork required to accomplish their missions. The company's proprietary software combines entity management, business licensing, and registered agent service in a single interface.
Harbor Compliance continues to add to its technology to streamline government licensing. "We've recently rolled out enhanced functionality for managing licenses of individual professionals, including recording qualifiers on firm licenses and continuing education requirements," said Danz. "This was something our clients in highly regulated industries were keenly interested in, and the response has been tremendous."
"Licensing is the key to so many opportunities," Montali said. "By enabling organizations to obtain licenses and maintain good standing with minimal time and effort, we've helped more than 25,000 clients grow and reach their full potential."
Business leaders and nonprofit directors are encouraged to call 1-888-995-5895 or schedule a demo of the software online to see what it can do for their organizations.
About Harbor Compliance
Founded by a team of licensing specialists and technology trailblazers, Harbor Compliance empowers businesses and nonprofits with licensing, tax, and entity management solutions. Through a unique combination of dynamic data, advanced compliance software, and expert service options, the company helps organizations thrive and grow through every phase of the corporate lifecycle. The company's headquarters are located at 1830 Colonial Village Lane, Lancaster, Pennsylvania. To learn more, visit http://www.harborcompliance.com, or call 1-888-995-5895.
About Deloitte's 2019 Technology Fast 500™
Now in its 25th year, Deloitte's Technology Fast 500 provides a ranking of the fastest growing technology, media, telecommunications, life sciences and energy tech companies—both public and private—in North America. Technology Fast 500 award winners are selected based on percentage fiscal year revenue growth from 2015 to 2018.
In order to be eligible for Technology Fast 500 recognition, companies must own proprietary intellectual property or technology that is sold to customers in products that contribute to a majority of the company's operating revenues. Companies must have base-year operating revenues of at least $50,000, and current-year operating revenues of at least $5 million. Additionally, companies must be in business for a minimum of four years and be headquartered within North America.