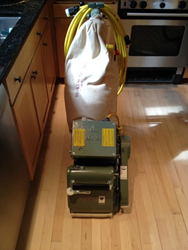 Revealing the Best New Professional Grade Option for Quality Hardwood Flooring Refinishing, Thanks to Milwaukee Based Royal Wood Floors
Milwaukee, WI (PRWEB) July 26, 2014
Hardwood flooring refinishing is now also more affordable and easier to schedule, thanks to this local professional service that specializes in refinishing wood floors. The Milwaukee area is their primary service area, providing such services as the installation of wood floor medallions and the best wood hardwood floor restoration at the fairest price.
Studies have confirmed what real estate professionals, home stagers, homeowners, and business owners have long known hardwood flooring is the most preferred. The reason for its high popularity is its great beauty and ease of care. A weekly sweeping and periodic buffing is all that's needed to keep hardwood looking its best. Another appealing feature is its immense durability, lasting decades, even several generations.
Recent surveys show that features most wanted by those consumers in the market to purchase a home are an odd, but sensible combination. The most sought after features are accommodating the latest in technology, along with hardwood floors. The dichotomy appears to be an amalgamation of wanting high-tech features within a traditional environment.
Refinishing, no doubt, is vital to hardwood flooring's popularity. Unlike carpet, which frays and gets matted down, and must be completely replaced when damaged. Tile likewise must be replaced, with entire rooms needing to be stripped and new flooring put down when it inevitably cracks. Cleaning grout is another unattractive prospect for would be homeowners, taking a lot of time and effort to keep it looking new. Hardwood, however, can be refinished to maintain its natural beauty. It also does not trap as much dust as carpeting, nor does it trap and contain allergens.
Royal Wood Floors advises homeowners and business owners with hardwood floors to immediately clean up any spills, sweep regularly, and have their flooring buffed periodically. It's advisable to have hardwood refinished when it becomes scratched, gouged, or dull. The service is inexpensive and provides a valuable return on investment for those selling their homes in the future.
For more information about this experienced and professional wood flooring contractor, or to schedule repairs by this hardwood floor company, or learn about custom wood styles or the company's inlay and medallion installation services, phone Keith Allman at 414-378-2066. Estimates and appointments are currently available through the company's website, RoyalWoodFloor.com. The company provides top craftsmanship and cares for many types of custom and domestic wood. Visit the company's website for examples of previous work.