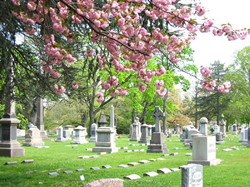 "Establishing a dedicated burial ground and proper resting place for the lives lost while making the greatest sacrifice for our country is something that the board and county is committed to." -Louis Cicalese, President Trustee of Harleigh Cemetery
CAMDEN, N.J. (PRWEB) May 20, 2019
On Monday, May 27th, Harleigh Cemetery and the Camden County Veterans Cemetery will honor the lives of the brave men and women of the armed forces who made the ultimate sacrifice at the annual Memorial Day service organized by the Camden County Freeholder Board. The service will honor the lives of the heroes lost and pay respect to the families of the fallen, showing gratitude for the selfless sacrifices both the families and the fallen have given serving with the United States military.
The cemetery itself provides families and visitors a peaceful, historical and beautiful environment to remember and honor the lives of their loved ones. Harleigh Cemetery and the Camden County Veterans Cemetery overlook the Cooper River and stands as one of the most respected cemeteries in the region due to its natural beauty and historical prominence. Harleigh Cemetery established the Camden County Veterans Cemetery on the grounds which was dedicated in 2007 by Camden County. As one of the oldest cemeteries in New Jersey, it was listed on the New Jersey Register of Historic places in 1995. The Veterans Cemetery at Harleigh is the final resting place for hundreds of fallen soldiers, including 300 civil war veterans.
This annual memorial service is important to the community, families, and the soldiers who lost treasured friends and fellow soldiers. On the service, Louis Cicalese, President of the Harleigh Cemetery Board of Trustees says, "Establishing a dedicated burial ground and proper resting place for the lives lost while making the greatest sacrifice for our country is something that the board and county is committed to", said Cicalese. "We proudly serve the families and community of Camden County."
During the memorial service, veterans will receive medals in reverence for their courageous service.
About Harleigh Cemetery
Harleigh Cemetery was established in 1885 and is the final resting place to hundreds of veterans, including 300 Civil War veterans. The cemetery is also the resting place of acclaimed poet, Walt Whitman. It is located on over 150 acres of land that features lakes, hills and thousands of beautiful trees. In 2000, Louis Cicalese was appointed to the Board of the Harleigh Cemetery Association, becoming the youngest to hold the position in the cemetery's 100-year history.