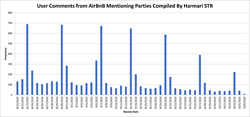 There's nothing these bad-faith owners won't do to keep from getting caught when their short term rentals spiral out of control
TORONTO (PRWEB) October 28, 2020
Last week, in San Diego County, Calif., local officials took action to shut down an alleged party house where a raucous gathering of up to 300 attendees took place in violation of local social distancing rules. Complaints to the local police mentioned gunshots, theft, underage drinking and property damage. At that time, the property was still listed on Airbnb as a "Cliffside 8 Million Dollar Beach Mansion w/ Ocean View" with "germ free-superior cleaning" that "sleeps 16."
Airbnb is trying to assure the public that it can ban the disruptive and dangerous party houses that show up on its site, but the data is showing that the world's largest short-term rental platform does not have the reach to control what goes on in its listings.
In response to the coronavirus pandemic, Airbnb instituted a global party ban and set an occupancy maximum of 16 guests on August 20th. While the majority of the platform's listings abide by the rules, far too many bring disruption and destruction to once quiet neighborhoods, even after the ban was put into place.
"Airbnb's party ban is a joke," says Allen Atamer, CEO of Harmari by LTAS Technologies. His company is hired by communities to help regulate and enforce their local short-term rentals, and part of his job involves tracking down the owners of the worst party houses. "There's nothing these bad-faith owners won't do to keep from getting caught. They're using false names and false pictures, they put their listings up at night and take them down again during the day, and they coach their guests to lie to police officers or town officials and claim they are friends and family of the owner or resident. It's amazing how many of these hosts have so-called friends coming over from Japan, Germany and Australia!"
Since Airbnb's party ban went into effect, Atamer's company has compiled thousands of user comments, posted by guests after the global party ban, who have allegedly stayed on short term rental listings advertised on Airbnb. From the compiled data he found with keywords and research evidence of:

4079 birthday parties
780 anniversary parties
603 bachelorette parties
98 bachelor parties
52 mentions of weed or marijuana
9 other instances of drug use
12 events where more than 16 guests were present
Unregulated short-term rentals can become a nightmare for renters as well. Airbnb users have posted horror stories to the site, warning other travelers to steer clear of the worst offenders. Some of the user comments refer to illicit drug use, adult-themed photo shoots, loud noises, shouting, and fighting within and surrounding the rental. This is hardly the ideal experience and picture of hospitality for a City.
Atamer recommends a three-stage plan that towns can use to regulate their short-term rentals and prevent party houses from taking root:
1. Establish: City planners, residents, Airbnb hosts and other vested parties come together to draft ordinances regulating local short-term rentals. This may include rules about:
-The number of rentals one person can operate
-Whether or not they have to be a local resident or owner-occupant
-The maximum number of nights a property can be rented out in a year
-Noise, trash and maximum occupancy restrictions
-Health, Safety and Insurance requirements for a rental dwelling
Once drafted, residents have a period where they can respond to the ordinances and propose changes before the new code is finalized.
2. Enforce: In this stage, the town or city goes through the work of registering each rental property, recording its real address and human contact. Airbnb operators then display their registration number on their listings as a sign of trustworthiness and legitimacy. Harmari STR offers a 24/7 Nuisance Hotline with live human inbound (for neighbors) and outbound (to hosts) to help hosts address the problem before it spirals out of control and the police have to intervene.
3. Endgame: Most Airbnb hosts comply with local ordinances, but there are some who don't want to be found. The endgame stage is when town planners or the consultants they hire need to use digital detective work to track down these final bad players. Harmari STR brings 9 years of experience to the table to help struggling cities and towns reign in bad actors.
"It's impossible for Airbnb to keep track of all of these listings," says Atamer. "Municipal leaders can only depend on themselves to enforce the law, and they have to identify party houses before they become super-spreader sites."
Press Contact:
Ron Chan
Account Manager
Harmari by LTAS Technologies
1-877-352-3277 x 2
ron@harmari.com