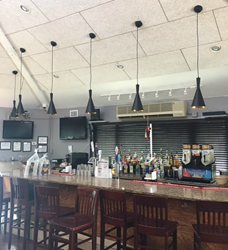 In order to complete this project, our property management team, the Harmon Cove Recreation Association Board and our vendors came together to ensure the highest quality installation at the lowest cost
Secaucus, New Jersey (PRWEB) August 01, 2017
Harmon Cove Recreation Association, the HOA for a premier residential condominium community in Secaucus, New Jersey, recently announced the successful completion of an extensive renovation to its Cove Club recreation club and improvements to the pool area, bar/café and more.
"In order to complete this project, our property management team, the Harmon Cove Recreation Association Board and our vendors came together to ensure the highest quality installation at the lowest cost," said Martin Laderman, founder and CEO of mem property management, the property management company for the Harmon Cove Recreation Association, representing the community and recreational facilities serving the residents living in The Harmon Cove condominium complex, "the work was completed ahead of schedule, on budget and our residents are able to escape the sweltering summer heat with a state of the art clubhouse and a newly refurbished pool area."
The improvements further an ongoing effort by the Board and mem property management to deliver for its residents the highest quality services and amenities and increase property values with dedicated, hands-on property management. These improvements and renovations are especially timely for Harmon Cove's residents as their town of Secaucus was recently rated No. 19 on New Jersey Monthly's annual list of the "Best Places to Live in New Jersey" and home buyers are showing increased interest in the area.
The town of more than 18,000 residents is the only municipality from Hudson County to rank above 200 on the list. The magazine rated 510 municipalities in the state based on home values, property taxes, crime rates, school performance and lifestyle factors such as nearby live performing-arts theaters and full-service restaurants.
Harmon Cove, consisting of over 1400 residential condominium townhouses and high-rise luxury condos, features a gatehouse entrance with 24-hour security, recreational clubhouse, pool, tennis courts, a playground and approximately four scenic miles of paved trails that link the river front and woodland settings of Harmon Cove.
About mem property management
mem property management is a privately held NJ property management company that was founded in 1984, by Martin Laderman with the vision to increase property value through solid, experienced management. Since that time, the company has expanded to manage dozens of properties from its New York border to the New Jersey Shore.
mem property management is privileged to serve some of the finest communities throughout New Jersey including many of the major developers and builders as well as communities as diverse as small ocean-front condominiums to large master-planned communities with several hundred homes to age-restricted retirement communities.
To learn more about mem property management corporation, please visit http://www.memproperty.com/ or call (201) 798­1080.