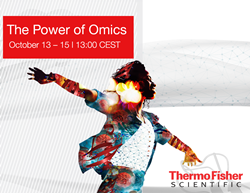 WALTHAM, Mass. (PRWEB) October 08, 2020
The Thermo Fisher Power of Omics conference is being held virtually October 13–15, 2020, on the LabRoots platform. The event is for those with an interest in any of the "omics" fields, including, but not limited to, genomics, transcriptomics, proteomics and metabolomics.
The conference will feature a series of presentations, from academia and industry-leading experts. Areas of study will include:

Virion proteomics, structural analysis, protein interactomics and host-cell interactions and how these areas of research drive the development of vaccines and diagnostics.
Cancer pathway proteomics, proteogenomics, and immunopeptidomics as well as examples of standardization across laboratories.
The conference will also showcase several collaborations (including single-cell proteomics, native MS for structural analysis, multiplexed proteomics and artificial intelligence) that enable the mass analysis of proteins from any organism significantly faster than before, and almost error-free.
Roundtable discussions will focus on challenges of delivering fast but quality science, what's needed to accelerate discovery research through practical utility, and standards that will deliver the promise of proteomics for human health. In addition to the presentations, audiences can visit our five virtual booths, where Thermo Fisher Scientific experts will answer any questions you may have. There will also be a dedicated poster hall and a networking lounge for conversing with other participants.
Produced on LabRoots' robust platform, connecting across all desktop and mobile devices, the interactive experience will allow participants in the Power of Omics conference to accumulate points for a chance to win prizes. To register for the event, click here.
About Thermo Fisher Scientific
Thermo Fisher Scientific's mission is to enable our customers to make the world healthier, cleaner and safer. Whether our customers are accelerating life sciences research, solving complex analytical challenges, improving patient diagnostics and therapies or increasing productivity in their laboratories, we are here to support them. Our global team of more than 75,000 colleagues delivers an unrivalled combination of innovative technologies, purchasing convenience and pharmaceutical services through our industry-leading brands, including Thermo Scientific, Applied Biosystems, Invitrogen, Fisher Scientific, Unity Lab Services and Patheon.
About LabRoots
LabRoots is the leading scientific social networking website, as well as a primary source for scientific trending news, premier educational virtual events/webinars and more. Contributing to the advancement of science through content-sharing capabilities, LabRoots is a powerful advocate in amplifying global networks and communities. Founded in 2008, LabRoots emphasizes digital innovation in scientific collaboration and learning. Offering articles and webcasts that go beyond the mundane and explore the latest discoveries in the world of science, LabRoots users can stay atop their field by gaining Continuing Education Credits from a wide range of topics through their participation in the webinars and virtual events.