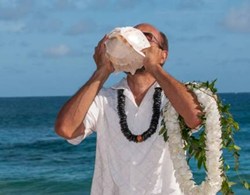 (PRWEB) August 07, 2013
Maui'd Forever is one of Hawaii's few full-service, all-Hawaiian Islands wedding planner and coordinator. Founded in 2003 by entrepreneur Mark Steffan, the company operates on the Hawaiian Islands of Oahu, Maui, Kauai and the Big Island of Hawaii. They use over 150 different wedding vendors and still find the need to add additional members to their team.
They are happy to announce their newest member on the Island of Kauai, the Kahu Harold Kilborn. He performs traditional Hawaiian wedding ceremonies, destination weddings, vow renewals and serves as a Kahu for many local businesses and families needing Hawaiian blessings and/or clearings. The Hawaii word "kahu" refers to caretaker, the priest to a community, and even some other more diverse meanings all relating to being a giver.
Minister Harold J. Kilborn, referred to as "Kahu," which means Minister in Hawaiian, was born on Oahu and lived most of his life on the Island of Kauai in the Koloa/Poipu area. He is married to Christine M. Kilborn, who was born and raised on Kauai. They have two children. They both met at Bethany University in Santa Cruz, CA and graduated with a B.A. Theology.
He is the lead Pastor for one of the oldest historic churches in Hawaii. It's a New England Colonial style church. It was founded in 1839 and the land the church sits on (six acres), was given by King Kamehameha the IV, the last reigning Hawaiian King. The deed is in all Hawaiian.
Minister Harold J. Kilborn, spent seven years and eight months in the Air Force following high school graduation. He was planning to spend 20 years. in the Air Force and then retire, but Akua (God) had other plans.
In his spare time, he loves to kayak the ocean with his fishing pole and catch fish at night or during the day. Some people think he is crazy kayaking the ocean at nights, but he says, that's only time you can catch a certain kind of fish that is very good to eat. Yes, there are sharks out there, but he has never been bothered by them.
He also loves to trap wild boars/sows and has caught, so far, well over hundred with his son. They have many boar tusks on display in their car garage. He has taken many visitors from the mainland with him to check his traps. This is quite an experience and very exciting to see how it's done. They are all vegetarians and they are very strong.
Other than that, he enjoys performing wedding ceremonies at his favorites spots, especially where the turtles love to swim. He always includes some Hawaiian in the ceremony, unless the couple wants it all in English. He is also considered to be one of the best conch shell blowers on Kauai with three octaves that he puts to the blowing of the conch shell. It is a must hear. It will be one of the highlights of the ceremony. He was asked to blow the conch shell for a CD at the beginning and ending of a song by a very popular singing artist in Hawaii.
Kahu Kilborn brings something truly special to a destination wedding in Hawaii. One could not get a more authentic Hawaiian experience and lifetime memories using him as a marriage officiate. His services are available on a standalone basis or in a variety of complete wedding packages that include flowers, video, photography and more.