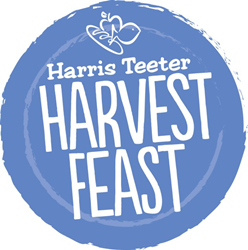 MATTHEWS, N.C. (PRWEB) October 30, 2019
Now through Dec. 31, 2019 Harris Teeter will host Harvest Feast – an annual fund drive to aid local hunger-relief efforts. Throughout the months of November and December, Harris Teeter will invite shoppers to Round Up their transaction at check-out to benefit its hunger-relief partners.
In 2018, the Harvest Feast campaign collected $680,000, producing more than 6.8 million* meals for those facing hunger. The Company hopes to raise even more money during this year's campaign as, according to Feeding America, one in every eight Americans struggle with hunger.
Since 2005, Harris Teeter's Harvest Feast has raised more than $5.8 million in monetary donations and hundreds of thousands of pounds of nonperishable food.
"The number of hardworking families, including children and veterans, within our communities who do not know when they will have their next meal, is astonishing," said Danna Robinson communication manager for Harris Teeter. "We are proud to offer a convenient way for our shoppers to support these families by Rounding Up at our registers."
This year, Harris Teeter is partnering with 19 agencies throughout its marketing areas. These agencies work year-round to fight hunger. Both Harris Teeter's food bank and food pantry partners are assigned stores within their service areas.
"We are continuously overwhelmed by the generosity of our valued associates and shoppers who help us provide millions of meals to our community members-in-need each year. It is important to remind our shoppers that every dollar raised at their Harris Teeter will go directly to serving hungry families within their community," said Robinson.
The success of Harris Teeter's Harvest Feast campaign hinges on the generosity of its loyal shoppers and valued associates. No donation is too big or small, and Harris Teeter hopes for continued participation again in 2019.
As part of this year's Harvest Feast programming, Harris Teeter will also be hosting four separate bag packing events to provide 8,000 families-in-need with a complete Thanksgiving meal.
To learn more about Harvest Feast, please click here.
The company would also like to thank its media partners Comcast, Cox Cable, Spectrum, & WRFX for assisting with promotion of the Round Up campaign.
*$1 creates 10 meals, Feeding America, 2019
Harris Teeter, with headquarters in Matthews, N.C., is a wholly-owned subsidiary of The Kroger Co. (NYSE: KR). The regional grocery chain employs approximately 30,000 associates and operates stores in North Carolina, South Carolina, Virginia, Georgia, Maryland, Delaware, Florida and the District of Columbia.