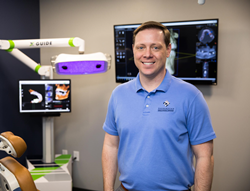 Dr. Quitmeyer utilizes cutting-edge technology to provide patients with the most accurate results.
HARRISONBURG, Va. (PRWEB) May 30, 2019
Dr. Aaron Quitmeyer of Shenandoah Oral and Facial Surgery welcomes new patients who may require wisdom teeth extractions to receive comfortable, efficient wisdom teeth removal at his Harrisonburg, VA office with or without a referral. Dr. Quitmeyer routinely performs wisdom teeth extractions using technologically advanced equipment and protocols that ensure precision outcomes and comfortable patient experiences.
As an esteemed, highly credentialed oral surgeon, Dr. Quitmeyer prefers to help patients retain their natural teeth whenever possible. However, in certain circumstances, wisdom teeth extraction can improve the appearance, functionality and health of the smile. In many situations, there is not enough room to accommodate wisdom teeth. This can lead to the wisdom teeth becoming impacted or only partially erupting. Not only can this cause discomfort and foster tooth decay, but the force of the wisdom teeth pressing against other teeth can lead to crowding.
Professional wisdom teeth extraction involves surgically removing one or more wisdom teeth to make room for the other teeth and reduce risk of future problems such as periodontal disease, spontaneous pain while chewing or bone loss. As Dr. Quitmeyer explains, "It's important to get [wisdom teeth] out early before they start causing symptoms to a patient." Sometimes, wisdom teeth extractions occur in conjunction with orthodontic treatments to produce more predictable, lasting results.
In addition to bringing his many years of training and experience as an oral and maxillofacial surgeon to every treatment, Dr. Quitmeyer utilizes cutting-edge technology to provide patients with the most accurate results. For wisdom teeth extraction, Dr. Quitmeyer relies on cone beam CT imaging, which provides oral surgeons with more detailed information than traditional digital x-rays.
Patients who feel they may require wisdom teeth extraction are welcome to contact Shenandoah Oral and Facial Surgery, with or without a referral, by calling 540-433-1751 to make an appointment.
About the Oral Surgeon
Shenandoah Oral and Facial Surgery offers oral and maxillofacial surgical care to the greater Shenandoah Valley. A board-certified oral surgeon, Dr. Aaron Quitmeyer serves a full scope of oral surgical treatments. Always welcoming, he and his team emphasize patient education, encouraging each patient to feel empowered to choose the right care for them. Implementing the latest technology every step of the way, they offer custom oral surgical treatments including wisdom teeth extractions, jaw surgery, dental implants and full mouth reconstructions to restore health, function and aesthetics. Dr. Quitmeyer is proud to call the Shenandoah Valley his home after a rewarding 10-year career in the United States Navy Dental Corps. To learn more about Dr. Quitmeyer, his practice, or the services they offer, visit http://www.shenandoahofs.com or call their office in Harrisonburg, VA at 540-433-1751.