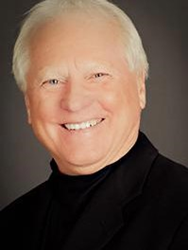 "I've always been impressed by Harry. His energy, enthusiasm, and care for agents is admirable and infectious." Chris Trapani, CEO and Co-Founder
LOS GATOS, Calif. (PRWEB) August 03, 2020
Sereno Group is inspired to announce the return of Harry Murray to its recently acquired East Bay brokerage, J. Rockcliff, where he will serve as the VP of Experience in the Danville office.
A San Francisco Bay Area real estate executive with more than 40 years in real estate and over thirty years in executive management, Murray worked at Fox and Carskadon before going on to help build Alain Pinel Realtors into the successful real estate brokerage it became.
"It's a great honor and quite fitting to finally have this opportunity to work together with Harry and specifically at this critical inflection point in the history of real estate. We are excited to expand and amplify our good fight to ensure the long-term success and livelihood of quality, committed REALTORS®," said Chris Trapani, Co-Founder, and CEO of Sereno Group.
Before his first stint with J. Rockcliff, Murray managed the Fox and Carskadon Los Gatos office for over ten years, acted as Broker of Record for Alain Pinel Realtors for nearly 17 years and was Vice President and Directing Officer at Intero Real Estate Services. In his previous role as Vice President of J. Rockcliff, Murray played a pivotal role in the company's significance and success leading a powerhouse group of the most respected and productive agents out of its Danville office.
Murray and Trapani, along with the combined leadership teams at both J. Rockcliff and Sereno Group are committed to a purposeful vision to protect the livelihood of REALTORS® and ensure the role of the real estate professional continues to thrive. Sereno Group's independent growth plans include further expansion in the greater Bay Area and throughout Northern California with more announcements coming soon.
About Sereno Group
Founded in 2006, Sereno Group is, with the acquisition of J. Rockcliff, the largest independent and locally-owned residential real estate company with thirteen offices and 500 agents in Silicon Valley, Santa Cruz Coast, and the East Bay producing nearly $5 Billion in annual sales volume. The company offers a highly curated support platform and provides agents with concierge services to strengthen client relationships, as well as world-class technology for well-executed transactions. Sereno Group is particularly proud of its agent-driven 1% For Good, an initiative that is changing lives in our local communities, and to date, generated over $3.2 million in charitable donations.