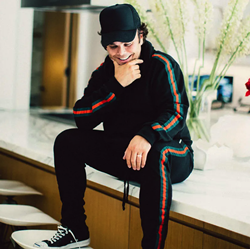 My team and I are not only able to provide clients with the local expertise and market insight needed to succeed, but also the state-of-the-art technology, administrative, and legal services that today's industry requires
BEVERLY HILLS, Calif. (PRWEB) January 26, 2023
Hartleigh Haus today announced its partnership with Side, the only real estate technology company that exclusively partners with high-performing agents, teams, and independent brokerages to transform them into market-leading boutique brands and businesses. The alliance will ensure that Hartleigh Haus's sophisticated service and turnkey solutions are powered by the industry's most advanced platform.
Hartleigh Haus was founded by Justin Leigh, a Beverly Hills native with an international upbringing whose client roster spans tech professionals, designers, artists, and celebrities. Leigh's sophisticated service, uncanny neighborhood insights, and organic understanding of the shifts in the local real estate market have helped him generate over $100 million in sales in 2021 alone. Hartleigh Haus serves and inspires buyers and sellers throughout Beverly Hills and Los Angeles with plans to expand into Miami in 2023.
Partnering with Side will ensure Hartleigh Haus remains on the cutting edge of the evolving real estate market while continuing to deliver premium services to its clients. Side works behind the scenes, supporting Hartleigh Haus with a one-of-a-kind brokerage platform that includes proprietary technology, transaction management, branding and marketing services, public relations, legal support, lead generation, vendor management, infrastructure solutions, and more. Additionally, Hartleigh Haus will join an exclusive group of Side partners, tapping into an expansive network from coast to coast.
"As a result of our alliance with Side, my team and I are not only able to provide clients with the local expertise and market insight needed to succeed, but also the state-of-the-art technology, administrative, and legal services that today's industry requires," said Leigh.
Side is led by experienced industry professionals and world-class engineers who develop technology designed to improve agent productivity and enhance the client experience. Based on its belief that homeownership is a fundamental human right, Side is on a mission to improve the public good by providing top-performing real estate agents, teams, and indie brokerages with the best system, support, service, experience, and results.
About Hartleigh Haus
Hartleigh Haus is locally served and globally influenced to deliver sophisticated and inspiring real estate services to the Beverly Hills community. With turnkey solutions, the team tailors its care to fulfill each client's individual needs and lifestyle choices. Tuned in to the city's inventory and its discerning demographics, Hartleigh Haus also uses innovative strategies to adapt to every client's situation and deliver the results they expect and deserve. For more information about Hartleigh Haus, visit http://www.hartleighhaus.com.
About Side
Side is a behind-the-scenes brokerage platform that exclusively partners with top-performing agents, teams, and independent brokerages to create and grow their own boutique brands without the cost, time, or risk of operating a brokerage. Side's proprietary technology platform and premier support solutions empower its agent partners to be more productive, grow their business, and focus on serving their clients. Side is headquartered in San Francisco. For more information, visit http://www.side.com.