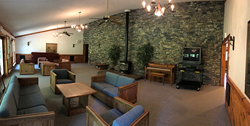 Michaux Lodge is a wonderful retreat house with a fully equipped kitchen and a great meeting room. The upgrades will further enhance this offering." Tina Heck, UCCR Director of Reservations
MILROY, Pa. (PRWEB) March 28, 2019
Hartman Center in Milroy, Pennsylvania is getting ready for their spring season with grass growing greener everyday and a new remodel job on the horizon. Michaux Lodge is currently being remodeled to include new flooring, bathrooms and appliances for added guest convenience and comfort.
"We are getting ready to remodel Michaux Lodge, originally built in 1989. It's due for some upgrades and will be more efficient for groups to stay in, as we're adding four more bathrooms." says Zach Hassinger the facilities Site Director. Michaux Lodge already boasts 8 bedrooms, each including a double bed and three singles for a total of 32 beds, a dining room, common room, and kitchen.
Spring in Pennsylvania provides plenty of opportunity for outdoor recreation with temperatures averaging in the 50s during spring and summer highs averaging over 70 degrees. Hartman Center invites all types of groups in search of lodging to come stay and enjoy the beautiful outdoors and meal service on site. Join us to explore our Walking Labyrinth, pond or hiking trails this spring at Hartman Center.
For more information contact 800-678-5102 or uccr.org/hartman. For a free tour, contact Zach directly at 717-667-2431.
HARTMAN CENTER is the Outdoor Ministries facility owned by Penn Central Conference of the United Church of Christ since 1964. The property owners have opened the facility to the community for use as event space or as an overnight retreat center. Hartman Center may be reserved for groups needing space for retreats, conferences, workshops, dinner meetings, summer camps, trainings, and other gatherings.